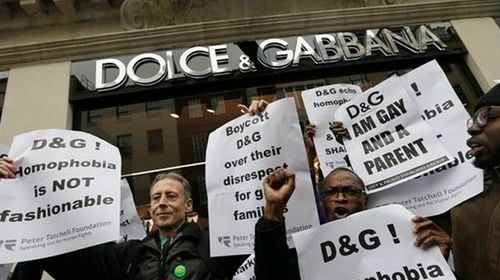 Gay rights supporters lined the walls outside Dolce & Gabbana's flagship store in London on Thursday to protest the fashion designers' comments about same-sex parenting and IVF babies, the London Evening Standard reports:
Campaigners from The Out and Proud Diamond Group held placards which said "D&G Homophobia is not fashionable!" in the protest next to the shop in Bond Street.
They were joined by leading gay rights activist Peter Tatchell as they called for shoppers to boycott D &G after the duo claimed children conceived through IVF were "synthetic".
Other protest banners read "Dolce & Gabbana – put labels on clothes, not families" and "Boycott D&G over their disrespect for gay families".
Watch footage of the demonstration, AFTER THE JUMP…
In related news earlier this week, the Huffington Post reported that international advertising agency DigitasLBi, which "counts Puma and eBay among its clients," announced it would drop the "D" and "G" from its name for a week and call itslef "iitasLBi".
Bill Maher and his panelists Christine Quinn, Mercedes Schlapp, and former Rep. Jack Kingston also addressed the D&G controversy on Real Time last night, which you can check out AFTER THE JUMP.
Start at 8:10