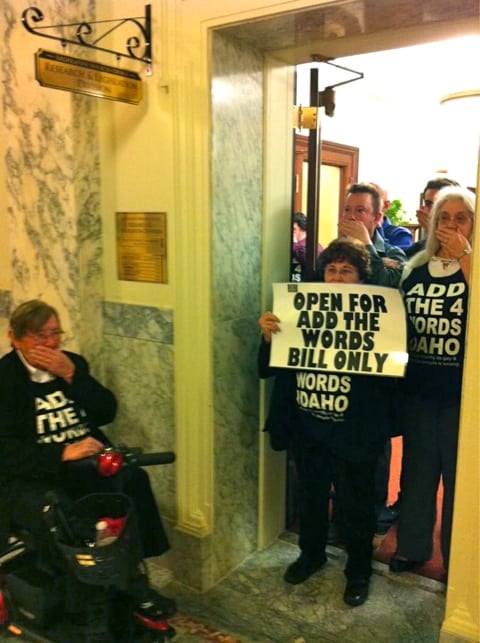 Idaho has become a hotbed for LGBT direct action. In fact, it seems to be one of the few states where activists are still willing to go to jail to fight for equal rights. 
On Monday, for the second time this month, dozens of people from the "Add The Words, Idaho" campaign were arrested for protesting in support of statewide LGBT protections, after they refused to leave bill-drafting offices at the Capitol in Boise. 
The Associated Press reports: 
Idaho State Police made 25 arrests, including six people who were arrested twice, Monday for trespassing in the Statehouse. Protesters staged three different demonstrations Monday.

Activists taking part in the protest warned in a statement that they would not voluntarily leave until legislators consider adding four words — sexual orientation and gender identity — to the Idaho Human Rights Act.
Back in January, a state House committee killed a proposal to add LGBT protections to the Human Rights Act after 21 hours of testimony. Earlier this month, 23 activists were arrested in a similar protest. And last year, 32 "Add The Words, Idaho" protesters were arrested.  
Idaho is among the states where same-sex couples can marry — but can also be legally fired from their jobs for doing so. 
It's truly refreshing to see this type of nonviolent resistance, especially when our other strategies don't always seem to be working. And it's doubtful the media would have paid much attention if the group had simply sent out another fundraising email. 
Our only advice to "Add The Words, Idaho" would be to update social media with photos and video from the protest. Then again, that's kind of hard to do when you're in handcuffs. 
Here's a shot of the protesters being led away from the Capitol: