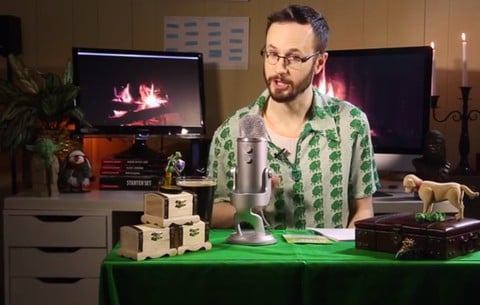 In a new video posted in celebration of St. Patrick's Day, Matt Baume, whom you may recall from his weekly Marriage Watch updates, looks at the history of gay people being banned from marching in St. Patrick's Day parades, why that's hypocritical, and ultimately why it matters.
Baume draws a parallel between the Irish American experience and the gay American experience in that both communities have (at different times in history) been demonized and pushed to the fringes of society because of their other-ness. When Irish immigrants inundated the U.S. in the 19th century, they were treated as sub-human. The LGBT community has been treated in similarly inferior fashion for the vast majority of modern history even with recent strides on the civil rights front. So what to do when you're being told you're inferior? Put on a parade of course. The St. Patrick's Day parade allowed Irish individuals to celebrate pride in themselves and their community. Gay Pride parades across the country follow a similar logic; they counter the message that says you should be ashamed of yourself with a message that says "no, we're great"
So why does it matter if LGBT people can't march in certain St. Patrick's Day Parades? Because LGBT Irish Americans proud of their Irish-ness and their-gayness should be able to celebrate both of these characteristics at once. As Baume points out, gay Americans and Irish Americans are not defined by only one characteristic. 
Watch Baume's video, AFTER THE JUMP…