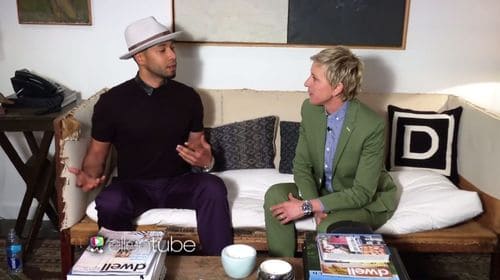 After weeks of not commenting on the subject matter, 31-year-old Empire actor Jussie Smollett has publicly addressed his sexuality in an interview with Ellen DeGeneres.
Smollet, whose Empire character Jamal Lyons recently sang his way out of the closet, declined to address his personal life in the talk show portion of his interview with Ellen but arranged a follow up chat backstage to make it clear his reluctance to bring up the issue shouldn't be construed as living a closeted life.
Said Smollet:
It was really important to me to make sure that it got across that there is no closet. There's never been a closet that I've been in. I don't own a closet, I got a dresser, but I don't have a closet. But I have a home and that is my responsibility to protect that home. So that's why I choose not to talk bout my personal life. But there is without a doubt, no closet that I've ever been in, and I just wanted to make that clear, but it was most important for me to make that clear to you on your show at this time in the world. And that's where I'm at…
Watch the interview, AFTER THE JUMP…
And in case you missed our own Charles Pulliam-Moore's latest Interplay on Smollet, his sexuality, and whether you can "out" someone if the public already assumes that they're gay, check it out HERE.