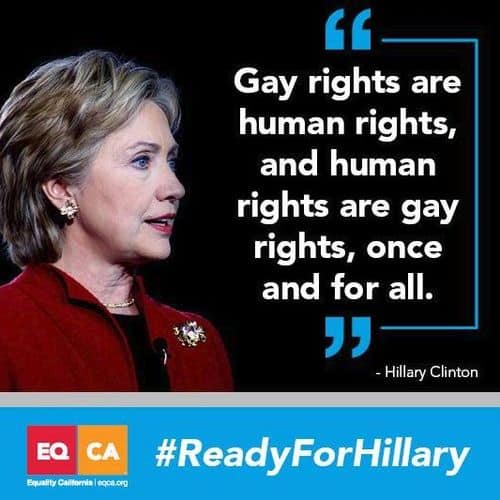 Equality California has taken a preemptive step in the 2016 race for the White House and become the first LGBT organization to endorse Hillary Clinton for president, the group confirmed in a statement today:
"We want Hillary Clinton to run and are ready to mobilize our 800,000 members to help her win," said Equality California's Executive Director Rick Zbur. "We're enthusiastic about her candidacy because she has the best record of accomplishment on LGBT issues of any potential candidate. Equality California is ready for Hillary!"
As Secretary of State, Clinton championed the rights of LGBT people around the world, making LGBT rights and acceptance a global priority. In 2011, Sec. Clinton gave a historic speech on International Human Rights Day at the United Nations in Geneva, saying: "Gay rights are human rights, and human rights are gay rights."
Under Sec. Clinton's leadership, the Department of State used its full range of diplomatic and development tools to combat violence and discrimination against LGBT people worldwide. Thanks to her efforts, LGBT rights became a core principle of U.S. foreign policy in an unprecedented way.
Throughout her career in public service, she has been a champion for LGBT equality and acceptance within the United States. In a video message, Sec. Clinton states "I believe America is at its best when we champion the freedom and dignity of every human being – that's who we are, it's in our DNA."
it's true – we are the 1st #LGBT org to endorse @HillaryClinton for president: http://t.co/jgFYYQDyY0 Are u ready? pic.twitter.com/WJkwnRiDAu

— Equality California (@eqca) March 16, 2015
EQCA also included a two-page fact sheet on Clinton's record on LGBT issues, which Chris Johnson over at the Washington Blade notes does not mention the late timing of her endorsement of marriage equality in March 2013. Clinton was one of the last big name Democrats to do so.