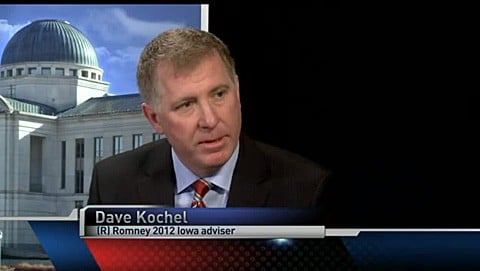 Dave Kochel, a former Mitt Romney advisor who came out for marriage equality in 2013 saying "the culture wars are over…and the Republicans, largely, lost," is backing away from his outspoken support of same-sex marriage as he prepares to lead former Florida Gov. Jeb Bush's 2016 presidential campaign, TIME reports:
Kochel, an Iowa-based veteran of Mitt Romney's presidential campaigns, signed a Supreme Court friend of the court brief when justices overturned California's gay marriage ban in 2013. But this week Kochel's name was off the list when more than 300 Republicans signed another amicus brief this week in support of legalizing same-sex marriage nationwide.
In an email to TIME, Kochel, who is currently working for Bush's Right to Rise PAC, said he was stepping back from his public role. "In my full time role at the PAC, I have decided not to sign advocacy petitions of any kind," he said.
At CPAC last week, Bush touted his anti-gay views a crowded audience, saying "I believe in traditional marriage."