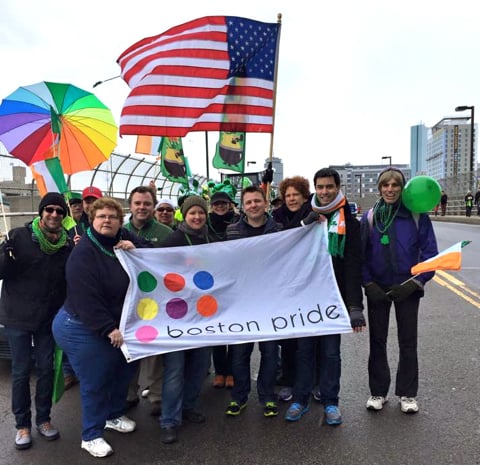 Two LGBT groups marched in Boston's St. Patrick's Day parade on Sunday for the first time in the event's 114-year history. 
OutVets (below right) and Boston Pride (above) were both invited to participate, ending a two-decade ban on gay groups. 
The Associated Press reports: 
"We march today for the memories of those thousands and thousands of people who went before us, some who went to their graves in the closet," OutVets founder and leader and Air Force veteran Bryan Bishop told his group before the parade. He called it "the beginning of the mission of this organization to honor the service and sacrifice of every single LGBT veteran, their family, their allies and every veteran in this country who fought so selflessly to defend the rights that we hold dear." … 

Boston Pride member Freddy Murphy said the open inclusion of gay groups was a long time coming.

"I just remember watching the parade and kind of thinking it was hopeless, that my entire world was against me," said Murphy, a Dorchester neighborhood native whose father was a Boston firefighter. "This is why I'm marching today."
Also marching in the parade for the first time in 20 years was Boston's mayor. Mayors had boycotted the event every year since 1995, when the U.S. Supreme Court upheld the right of the Allied War Veterans Council, which organizes the parade, to keep gay groups out.
The War Veterans Council voted 5-4 in December to allow OutVets to participate, and Boston Pride received an invitation last week. Mayor Marty Walsh was joined by Gov. Charlie Baker and Congresssman Seth Moulton, who marched with OutVets.  
"I'm thrilled that the St. Patrick's Day parade is inclusive this year, and the addition of Boston Pride to the list of participants reflects the values of the South Boston neighborhood," Walsh said in a statement. "With this year's parade, Boston is putting years of controversy behind us."
Knights of Columbus, the anti-gay Catholic group, boycotted the parade over the decision to allow LGBT groups. In New York, Mayor Bill de Blasio is boycotting the parade because only one LGBT group will be allowed to march. 
Watch a report on the parade from New England Cable News, AFTER THE JUMP …