The Indiana Office of Technology has been on the lookout since last Friday after hacktivists brought the State of Indiana's official website to its knees using a denial-of-service attack.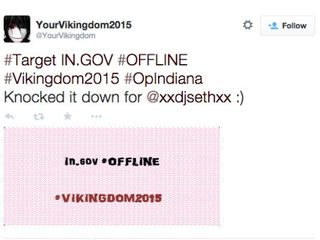 The group known as YourVikingdom almost immediately came forward on Friday admitting that it had targeted Indiana's site in response to Governor Mike Pence's decision to sign the state's discriminatory "religious freedom" bill into law. Indiana IT officials confirmed the attack soon after restoring access to the site and were insistent on pointing out that the website had not been "hacked" in the traditional sense of the word.
"Indiana, like many other states, has been targeted with a denial of service interruption," explained Indiana Office of Technology spokesman Greg Lubsen.  "A denial of service attack consists of sending many traffic requests at the same time in order to overwhelm a website and have it not be able to load. The denial of service interruption began at approximately 2:00, but the site has not been continuously down."
Soon after Lubsen's confirmation of the attack, YourVikingdom took to its not suspended Twitter account to claim responsibility, saying that it had gone after Indiana's website as a favor to a specific Twitter user. @xxdjsethxx, the handle YourVikingdom named belongs to Richard Miller, a 35 year-old man living in Florida. Though Miller has had a history working in information technology, he adamantly denies actually calling for the attack on Indiana's site.
"I called for more media attention to be brought to this," he elaborated to the IndyStar. "Now I'm all worried I'm going to be contacted by the FBI and blamed for it. I figured it was going to happen anyway because I know how Anonymous hacks."
(h/t IndyStar)