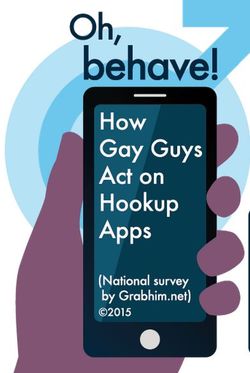 A study conducted by grabhim.net found interesting data pertaining to gay mens' dating and hookup app habits ranging from how often they send pictures of their genitals to how many users actually meet and/ or hookup with in a single month. The study consisted of asking 4,000 gay men, over the course of four weeks, to fill out a 19-question online survey centered around a general premise; how do gay men act on an app? 
The most surprising figures show that 83 percent of the 4,000 gay men polled in the study have sent pictures of their penis to another user, with only 17 percent saying they don't send those types of pictures. Around 76 percent said they respond honestly when another user asks them about their penis size with only 3 percent saying they exaggerate their size. Most surprising of all is that 43 percent of users have not met anyone they met on the app in person within the last month; 24 percent state they physically met only one person they met online within the last month.
Unsurprisingly, 45 percent of users said they prefer a date but will go with a hookup if it seems right, while 24 percent of users solely look for hookups. Disappointing numbers show HIV stigma exists as 28 percent of men said they were unlikely to initiate contact or respond favorably to attractive men who state they're HIV positive in their profiles, with another 29 percent saying it is highly unlikely they would do so either. Around 43 percent of HIV positive users state they disclose their status on their profile, with another 31 percent saying they disclose their status before physically meeting; only 10 percent don't disclose their status unless asked. Surprisingly only 45 percent of guys who actually meet up don't hook up at all, although when they do 50 percent choose to do it at home, while 50 percent pick neutral locations.
The study found that a majority of users are between 18-50 years old, with 29 percent using Grindr and 16 percent using Scruff however, the study doesn't give those polled an option to select more than one dating app option.
Check out the full infographic, AFTER THE JUMP…

via grabhim.net