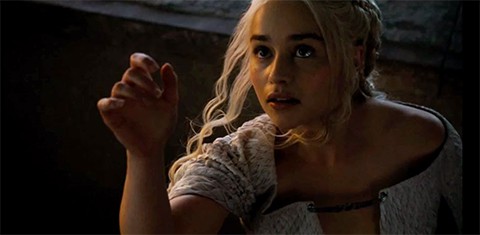 In conjunction with the announcement of HBO's highly anticipated standalone streaming service at yesterday's Apple Event, comes a new trailer for season 5 of Game of Thrones that can best be summed up as, "No more nice Khaleesi." While the many claimants to the Iron Throne have battled it out in Westeros, Daenerys Targaryen (a.k.a. Khaleesi, a.k.a Mother of Dragons) will finally get her chance to avenge her family and end her wandering in the desert, nurturing baby dragons and amassing armies.
Says Daenerys in dramatic voiceover: "Baratheon. Starks. Tyrell. They're all just spokes on a wheel. This one's on top, then that one's on top, and on and on it spins, crushing those on the ground. I'm not going to stop the wheel. I'm going to break the wheel." 
While much seems set to change in season 5, one thing we can still count on is Dario Naharis (Michiel Huisman) and his shirtless good looks.
Check out the trailer, AFTER THE JUMP…