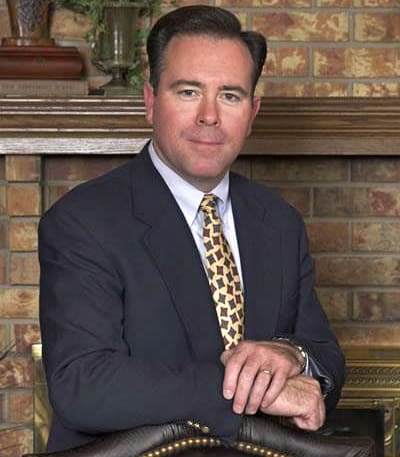 The state of Oklahoma would no longer issue marriage licenses under legislation approved by the House of Representatives on Tuesday. 
The bill, which is designed so that the state doesn't have to issue marriage licenses to same-sex couples, passed the House 67-24. 
The Tulsa World reports: 
House Bill 1125, by Rep. Todd Russ, R-Cordell (above), would instead require those officiating marriage ceremonies to file "certificates of marriage" after the fact. Alternately, couples could file affidavits of common law marriage.

Russ said his bill is in response to county clerks who do not want to marriage licenses to same-sex couples.
"This takes them out of the trap," he said.
Troy Stevenson, executive director of the LGBT group Freedom Oklahoma, issued the following statement: 
"This legislation puts ALL couples – who plan to marry in Oklahoma – at risk of being denied hundreds of federal legal rights and protections, if it were to become law. The federal government and other states will not be required to acknowledge these proposed 'marriage certificates.' This legislation will only result in mass confusion from clerk's offices to courtrooms around the nation – while putting Oklahoma families at risk. In the past six months, the freedom to marry has been the law of the land in Oklahoma, and not a single marriage has been at risk – until now, and it is our elected officials who are creating the danger."
The plaintiffs in a lawsuit that brought marriage equality to Oklahoma had a slightly different take: 
"The animus behind House Bill 1125 is a far greater concern than the content of the bill itself. Practically speaking, lawmakers are saying they so desperately want not to recognize same-sex marriages that they are willing to alter the entire marriage licensing process in Oklahoma just to give themselves an out. They're not making marriage harder for same-sex couples alone; this affects all marriage applicants. That said, if Oklahoma lawmakers wish us to jump through a different set of hurdles to marry than the present hurdles just so they can sleep better at night having done their part to fight off the inevitable growing tide of acceptance of same-sex marriage, we gay and lesbian couples, now equal under the law, will oblige.
Read the full text of HB 1125, AFTER THE JUMP …