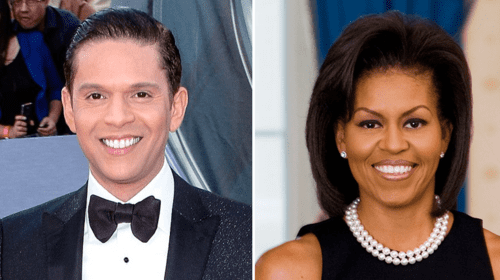 Rodner Figueroa, the openly gay style correspondent for Univision's El Gordo y la Flaca, has been fired for comparing First Lady Michelle Obama to a character from "Planet of the Apes" during an on-air segment. Figueroa made the racist comments during a segment featuring Paolo Ballesteros, a Filipino actor and makeup artist with an uncanny ability to transform himself into different female celebrities using nothing but his formidable makeup skills.
While watching Ballesteros contour his face to resemble Michelle Obama's Figueroa took the opportunity to comment on the First Lady's appearance:
"You all know that Michelle Obama looks like she's from the movie Planet of the Apes."
Raúl De Molina, one of Figueroa's co-hosts, attempted to diffuse the situation by repeatedly asserting that many people including himself found Mrs. Obama very attractive, but the damage had been done.
The live segment was broadcast to east coast audiences, but the racist remarks were edited out in time for the west coast broadcast. By the end of the day Univision had terminated Figueroa, wiped him from their official website, and and issued an official statement about their decision saying that his comments "were completely reprehensible and in no way reflect the values or opinions of Univision."
Hours later Figueroa released a statement of his own apologizing for his comments and claiming that he was fired after White House representatives expressed their concern to Univision.
"I am embarrassed, I ask forgiveness, because there is no excuse for a professional like me to make comments like this that can be misinterpreted as offensive and racist during such a volatile time in our country," he wrote. "I take responsibility for this error in judgment on my part, but I can not accept being called racist and fired like this, humiliated publicly by Univision, after 17 years there."
He continued:
"I come from a bi-racial Latino family, with family members like my father, who are Afro-Latino. I am the first openly gay host on Spanish-language television and I have been an activist for causes to help minorities, who like me have been discriminated against. I voted openly two times for your husband, Barack Obama, because I consider him to be a great man who respects minorities like me in this country."