Ozer Aydogan and Bahadir Baruter, two Turkish cartoonists working for the satirical paper Penguen, have been slapped with significant fines for creating a caricature of the country's president, Recep Tayyip Erdoğan, suggesting that he's gay.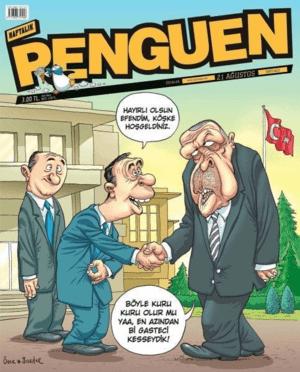 The two artists penned a front page picture for the magazine's August issue last year depicting the president meeting with a governmental official while making a an 'O' with his free hand near his groin. The gesture, according to Hurriyet Daily News, is commonly associated with gay men and is often used to insult other people.
The artists' trial went to court earlier this month and within days both were charged with 14-month stints in prison. Because of their civil behavior in court, the initial charges were lowered once down to 11 months and 20 days and then once again to 7,000 Turkish Lira.  
Though neither of the cartoonists were present for their trials, they've explained publicly that the intention behind depicting Erdoğan making the symbol wasn't to draw attention to his sexuality, but rather to highlight how his office had made a habit of harassing journalists and other critics.
In 2006 Erdoğan sued Penguen for some 40,000 Lira for publishing a cover in which he was depicted as a number of different animals. Erdoğan has also gone after slightly less high-profile figures, threatening a former Miss Turkey winner for criticizing him on Instagram and sending police to the house of a teenager who tweeted his negative opinions of the president.