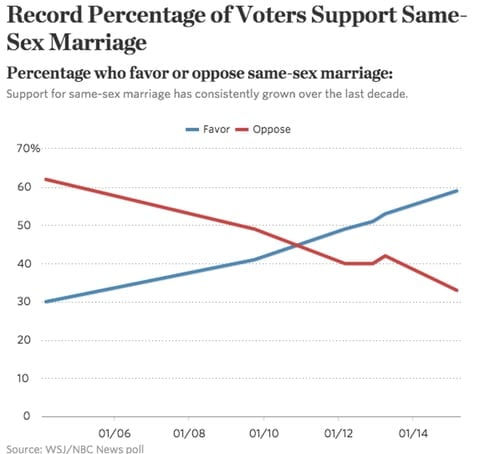 A new poll from The Wall Street Journal and NBC News shows that nationwide approval for same-sex marriage in the U.S. has hit an all-time high. The meteoric rise in support for marriage equality is unparalleled even when compared to other social issues that witnessed dramatic changes in popular opinion.
The Wall Street Journal reports:
The new survey found that 59% of Americans support allowing same-sex marriage, nearly double the 30% support reported in 2004.
Fred Yang, the Democratic pollster who conducted the survey with Republican Bill McInturff said public opinion about gay marriage is changing at a much more rapid rate than did the nation's attitudes toward interracial marriage, which now is supported by 87% of Americans.
Support has grown markedly for gay marriage among Hispanics, women and people who lack college degrees, among other demographic groups. Opposition among conservatives has lessened: Some 35% of conservatives supported gay marriage in March, up from 26% in April, 2013.
Among Republicans, 40% support gay marriage, up from to 27% two years ago.
While the increased support for same-sex marriage across the country is good news for marriage equality advocates, the sea change in popular opinion is unlikely to have a large impact on the Republican field of Presidential hopefuls vying for the GOP's nomination. Only 29% of Republican respondents to the survey voiced support for same-sex marriage. And when asked "how their view of candidates would be affected by support for gay marriage", 50% of Republican primary voters said support for same-sex marriage would make a candidate less favorable in their eyes, with only 19% saying it would make them more favorable.