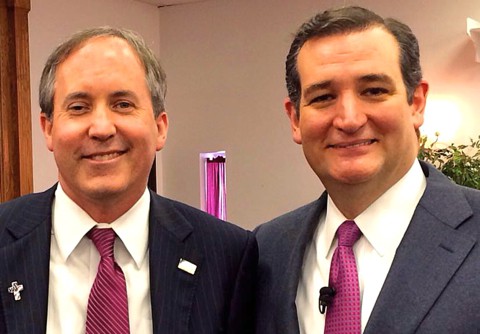 Republican Texas Attorney General Ken Paxton (above with Sen. Ted Cruz) doesn't want gay employees to be able to take time off from work to care for their ailing spouses.
Paxton, a tea partier, filed a lawsuit Wednesday against the Obama administration over a new rule extending the Family & Medical Leave Act to same-sex couples who live in states that don't recognize their marriages. 
Paxton is also advising state agencies — which employ 310,000 people — not to follow the new FMLA rule. 
"This lawsuit is about defending the sovereignty of our state, and we will continue to protect Texas from the unlawful overreach of the federal government," Paxton said in a statement. "The newly revised definition of 'spouse' under the FMLA is in direct violation of state and federal laws and U.S. Constitution. Texans have clearly defined the institution of marriage in our state, and attempts by the Obama Administration to disregard the will of our citizens through the use of new federal rules is unconstitutional and an affront to the foundations of federalism."
Some background from The Washington Blade: 
After the Supreme Court ruled against the Defense of Marriage Act in 2013, the Obama administration sought to extend the federal benefits of marriage to the furthest extent possible under the law.

But FMLA by regulation looked to the state of residence, not the state of celebration, to determine whether a couple is married, so for a time married same-sex couples in non-marriage equality states were ineligible for benefits under that law, which enables an individual to take time off from work to care for a spouse.

The new rule, made final by the Labor Department last month and set to take effect March 27, changes the regulatory framework to ensure these benefits are available to married same-sex couples regardless of their state of residence. 
It's worth noting that the FMLA doesn't require employers to give workers paid time off to care for sick spouses. It merely guarantees their health insurance will continue and grants them 12 weeks of unpaid, job-protected leave per year "to care for the employee's spouse, child, or parent who has a serious health condition." 
Paxton's lawsuit seeks to prevent the new rule from taking effect not only in Texas, but in all 12 states where same-sex marriage is still banned. However, because the lawsuit is based on the marriage bans, it would be presumably be nullified if the U.S. Supreme Court strikes them down. 
Paxton also recently sought to void the marriage of a 30-year lesbian couple, one of whom has ovarian cancer. 
Daniel Williams, legislative director for Equality Texas, told The Texas Tribune: "I think there are a lot of people who would like to know why the attorney general cares if loving, committed couples are recognized as loving, committed couples."
Read the full complaint, AFTER THE JUMP…