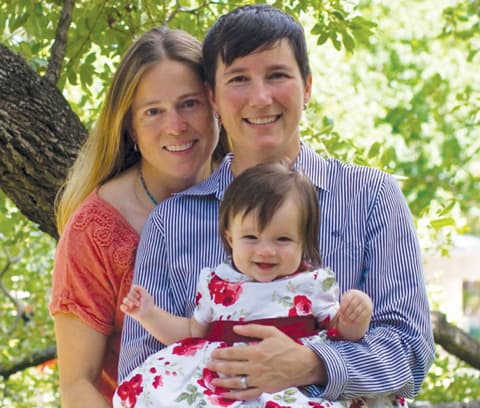 Three gay military couples allege that the Texas National Guard refused to process benefits for them last week.
However, a spokeswoman for Texas Military Forces, the official name for the state's National Guard, told Towleroad the organization's policy is to process benefits for all married couples. Lt. Col. Joanne MacGregor said if the same-sex couples were turned away, it was a mistake.  
Back in 2013, the Texas National Guard agreed to begin processing benefits for married same-sex couples, after Defense Secretary Chuck Hagel ordered the military to treat all married couples equally, pursuant to the U.S. Supreme Court's decision striking down a portion of the Defense of Marriage Act. Officials in Texas, Oklahoma and several other states had taken the position that processing the benefits applications from gay spouses would violate state laws prohibiting recognition of same-sex marriages. 
The states eventually backed down under pressure from the Department of Defense and LGBT groups including Lambda Legal, which represented Alicia Butler and 1st Lt. Judith Chedville, above. However, the American Military Partner Association reported today that three same-sex couples were unable to sign up for benefits last week: 
On Friday, March 13, 2015, three same-sex military couples were denied assistance by the federal military identification card enrollment center at Camp Mabry, the headquarters of the Texas Military Forces, near Austin, Texas. All three couples were told by the center's employee that they would not be provided service because their marriages were not recognized by the state of Texas, regardless of the fact they were seeking federal military benefits.

The American Military Partner Association (AMPA) strongly condemned the blatant discrimination in a letter to the Adjutant General of the Texas Military Forces, Major General Berry, outlining the situation that occurred and calling for an immediate investigation and clarification.

AMPA President Ashley Broadway-Mack issued the following statement today: "We are disappointed and outraged over the humiliating and discriminatory treatment these military families endured while simply trying to enroll in the federal benefits to which they are entitled. This issue was raised and, we thought, resolved over a year ago when the Secretary of Defense had to direct the Texas forces to comply with military policy. It's also further evidence of why sexual orientation should be protected under the Department of Defense non-discrimination policy and equal opportunity program. No service member or military spouse should be treated this way."
MacGregor, the National Guard spokeswoman, said officials received the group's letter this morning and were looking into the matter today.
"That is not our policy to not process," MacGregor said. "Clearly this has been a mistake that we're trying to clarify. If it happened, it was an error on our part. It was not intentional. That's what we're trying to get to the bottom of right now."
MacGregor said due to sequestration, the National Guard's benefits processing department has been reduced from six employees to one. The one remaining employee has had medical issues, so someone's been filling in for them. 
"Right now because of the cutbacks in our ID section, it has created problems with a lot of folks, honestly, not just same-sex couples," MacGregor said.  
Read the AMPA's full letter to General Berry, AFTER THE JUMP …