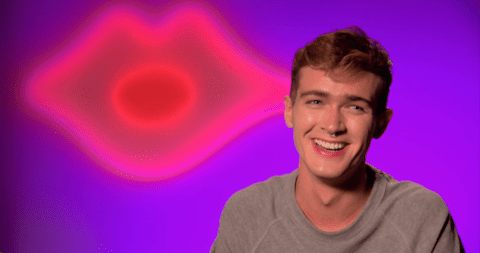 I'm not sure tonight's episode of RuPaul's Drag Race qualifies as a shocking elimination, but it was certainly unexpected. 
The parody musical challenge really shook up our top performers. Let's have some puns these beats are sick. Check out our rankings of the remaining queens, AFTER THE JUMP …
Sort of like So You Think You Can Dance, it's like Drag Race is just making up the rules as we go. If you check out the official Drag Race Guide For Beginners, they describe a typical show including a mini-challenge, but this is the second week this season that we just jumped right into the main challenge. (Also, we're now calling them maxi challenges? Sure.) Tonight the ladies broke themselves into teams (with really minimal bloodshed) before taking on satirical rewrites of three RuPaul tracks.
The songs and their resulting music videos yielded lots of movement in our rankings this week. See them below, and share yours in the comments.
1. This is Ginger Minj's world, and we're just living in it. Another week, another great performance and runway look on point. 
2. Finally, Katya had a chance to show us what she's capable of. Even in such a shaky group, Katya's comedy was steady. She was barely recognizable in her Tan Mom-chic, and she easily earned the most laughs out of her group, if not the most comical character all around.
3. Kennedy Davenport's character wasn't exactly mind-blowing, but I was still pleasantly surprised with the amount of humor she was able to deliver. Where was this acting ability and characterization last week? Her Sweet Brown-inspired performance would have been PERFECT for MacBitch. Her work in the music video tonight gave me faith that she might be able to survive through Snatch Game.
4. I wasn't expecting Jaidynn Diore Fierce to give us such a great Bianca Del Rio, but she really turned it out. That neon green camo though was pretty unforgivable. How did Michelle Visage let that one slide?
5. Is that Violet Chachki working her way up in the rankings? Why, it is! She was still rancid while working through the challenge, but her Adore popped in the video, and her runway look — which shared more than a little resemblance to Meep from American Horror Story: Freak Show — was a standout.
6. In Max's defense, even Courtney Act had trouble making Courtney Act funny. Still, Michelle Visage's demand that Max start branching out doesn't bode well.
7. How long will Mrs. Kasha Davis ride Ginger's coattails? I mean, there are old-school, camp queens and then there's whatever Kasha's doing. It just feels hopelessly outdated. What was the deal with her runway look? Who designed that, Ted DiBiase?
8. Oh, Trixie, we barely got to know you. Her music video performance wasn't great, but I didn't think it was go-home bad, either. My only consolation is the notion that maybe, just maybe Ru will pull another Kenya Michaels and bring Trixie back before the end of the season.
9. Miss Fame not only failed to impress this week, but she was real nasty throughout the main challenge. You, ma'am, are no J.K. Simmons and this is not Whiplash, so calm down with your musical directing. Her performance wasn't all that in the musicality department, she didn't serve up any kind of character and then her runway was just OK. Methinks she's only being kept here to bring the drama.
10. Was RuPaul watching the same lip sync I was? Pearl has struggled for weeks, and I thought her bottom two performance was seriously lacking. There were no laughs, no tricks, no particular rhythm. I think Pearl is just a great looks queen (and a great looking queen), which, as we know, is not enough in this competition.
11. How Kandy Ho escaped the bottom two is just beyond me. She lucked out this week, landing in the same group as top-performers Ginger and Kennedy, but it just made her all the more easy to ignore next to the shining stars. Her dress and hair on the runway were just OK, one of the least notable of the bunch. She's just so aggressively middle of the pack, that she might linger a few more weeks, and then, if there are some serious blunders she could fumble her way right to the top three. She's not winning material, and she's gots to go.
How would you rank the queens this week?