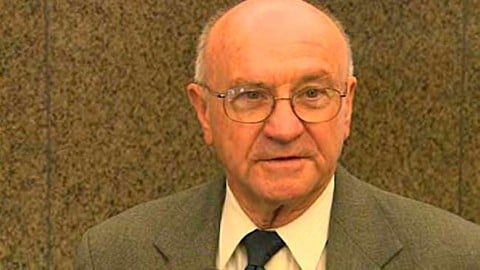 An anti-LGBT Houston activist says he has enough signatures to force a public vote on a charter amendment that would ban transgender protections in the city. 
Dave Wilson (above), of Houstonians For Family Values, led efforts to pass a charter amendment prohibiting domestic partner benefits in 2001. He also made headlines in 2013 when he deceived voters into thinking he was black to get elected to the Houston Community College board.
Now, Wilson wants to repeal transgender protections in both the Houston Equal Rights Ordinance and Mayor Annise Parker's 2012 executive order covering city employees.     
From KHOU.com: 
"Whatever you're born with you have to live with, that's what this is basically saying," said Dave Wilson, a HCC Trustee. … 

"What I'm talking about doing is a charter amendment change, which permanently codifies into the city charter the fact that men cannot use the women's bathroom," said Wilson.
Last May, the Houston City Council passed an Equal Rights Ordinance that includes transgender protections. However, opponents of the ordinance sued the city after officials rejected their petition to repeal it. The case is still pending, but Wilson says the effort to repeal the Equal Rights Ordinance isn't enough. From the mailer that accompanies Wilson's petition: 
"The current lawsuit against the Mayor's bathroom ordinance will not stop her. We must change the City Charter to prohibit her (or any future mayor) from passing Executive Orders or Ordinances. An amendment to the City Charter is the only permanent solution. What happens to the citizens of Houston and their City government when both have largely forgotten God and instead worship pleasure over principle and elevate lust over love? If you feel that getting involved in politics and signing the enclosed petition is beneath your dignity because you want to focus on worshipping and not politics, you better think again! Your religious freedom will evaporate in the absence of political freedom." 
According to the website of Houstonians For Family Values, the charter amendment would read as follows: 
"Except as required by State or Federal law, the City of Houston shall only define 'Gender Identity' as an Individual's Innate Identification, as either male or female, which Is assigned at birth. Perceived gender identification Is not allowed In defining 'Gender Identity.' Furthermore, the City of Houston shall require entities doing business with the city to adopt the same definition of 'Gender Identity.'" 
According to Texas state law, the proposed charter amendment would need 20,000 signatures to be placed on the ballot. In the case of the Equal Rights Ordinance, the city said opponents failed to gather the required 17,269 signatures. 
Wilson told KHOU he has enough signatures to put the charter amendment on the ballot and plans to turn them in next week. Even assuming that's true, the real question will be, how many of them are actually valid?
Watch KHOU's report, AFTER THE JUMP …