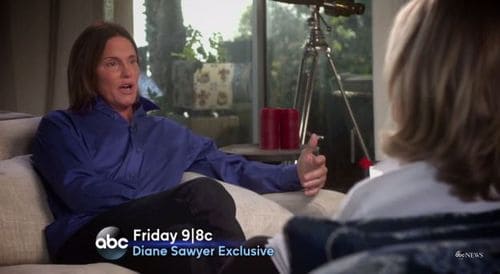 Bruce Jenner has come out as transgender in his one-on-one interview with Diane Sawyer.
Watch a portion of the interview, AFTER THE JUMP…
Update – GLAAD reacts:
"Today, millions of people learned that someone they know is transgender," said GLAAD President & CEO Sarah Kate Ellis. "By sharing this story, Bruce Jenner has shined a light on what it means to be transgender and live authentically in the face of unimaginable public scrutiny. Though Jenner's journey is one that is deeply personal, it is also one that will impact and inspire countless people around the world."
"Every transgender person's journey is unique, and by choosing to share this story, Bruce Jenner adds another layer to America's understanding of what it means to be transgender," said Nick Adams, GLAAD's Director of Programs, Transgender Media. "We hope that after hearing Jenner's story, people will want to learn more about the issues and challenges facing their transgender friends, co-workers, and family members. Stories like these will help create a world in which everyone can express their gender identity without fear of discrimination and violence." 
"@BEAUTYWins: #BruceJennerABC Comes out pic.twitter.com/KwK86DhnOP" outta line

— Nate (@NateTweetin) April 25, 2015