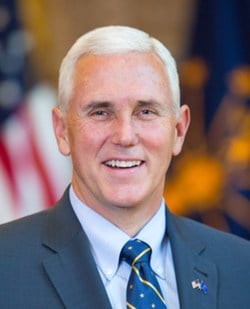 Within a week, voices of reason forced Indiana's Republican governor and legislature to back away from a law that would have allowed almost any private party to claim religious freedom when it wanted to discriminate against gays. But the "fix" signed into law on April 2 simply returns us to the status quo in a state where discrimination against gays is okay in all but 11 communities. To some extent, we should be happy we're back to where we started; Indiana's original "Religious Freedom Restoration Act" (RFRA) was a terrible, odious, discriminatory law. But we started at a place where being gay was grounds for denial of a slew of rights, so there's little cause for celebration.
The biggest "fix" is an amendment that would prevent individuals from using their supposed religious beliefs as defenses to discrimination claims. So, if a florist denies service to a same-sex couple wishing to get married, that florist cannot wield the sword of "religious freedom" to defeat the lawsuit. But it only applies to jurisdictions that actually ban discrimination on the basis of sexual orientation.
Consider two same-sex couples wishing to get married: one is in Bloomington, the other is in Goshen. Bloomington is one of 11 counties or municipalities in Indiana that have protections against antigay discrimination. So Bloomington's florists cannot deny service to Bloomington's gays. But Goshen's florists live in a town where there is no law against discriminating on the basis of sexual orientation. So the Indiana's RFRA fix offers no help for the gay couple from Goshen.
There are two take-aways from this series of events:
First, we have so much more to do. In Indiana, like many other states in the country, gay and lesbian Americans can be fired because of their sexual orientation. The "fix" to Indiana's RFRA doesn't change that. 
Second, elections matter. We wouldn't be playing these rearguard actions–namely, marshaling our forces to prevent terrible things from happening–if we got out to vote and elected our allies. We may not be able to achieve perfect equality overnight: that's not only an impossible goal, it may not even be a good strategy. But, at a minimum, when our progressive allies are in office, we have the opportunity to work (and work hard) for progress. Indiana, dominated by conservative Republicans, can only be places where we prevent the worst; we operate at the rearguard, not the vanguard, in these states.
Third, and perhaps most importantly, by electing to enact a partial "fix" to the state's RFRA rather than a wholesale repeal, the state kept a dangerous law on the books. As I discussed in my previous post on Indiana's RFRA, religious freedom laws, especially as interpreted by the courts, are bloated weapons of discrimination. Originally passed to prevent the state from interfering with religious minorities, these laws have become tools of oppression by privileging religious freedom over equality imperatives and having the expressive effect of suggesting that religious freedom trumps all. In a democratic society imbued with constitutional values of equality and fair treatment, religious freedom is just one of many values. RFRAs, therefore, open the door to discrimination.
***
Follow me on Twitter and on Facebook.
Ari Ezra Waldman is a professor of law and the Director of the Institute for Information Law and Policy at New York Law School and is concurrently pursuingWhat his PhD at Columbia University in New York City. He is a 2002 graduate of Harvard College and a 2005 graduate of Harvard Law School. Ari writes weekly posts on law and various LGBT issues.