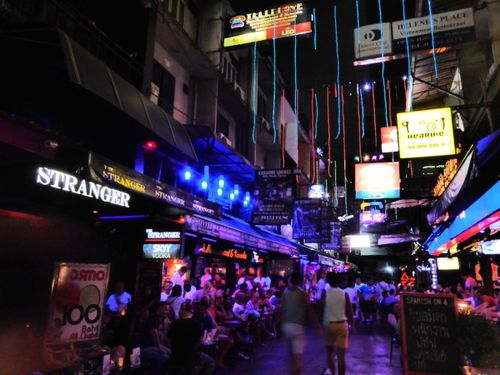 Silom Soi 4: home to many of Bangkok's gay bars
This article was written by Stefan and Sebastien and first appeared on their Nomadic Boys gay travel blog.
Silom in Bangkok is home to quite an exciting gay scene, which we initially discovered with our friend Regina.
A pedestrian road, Silom Soi 4 is a staple for all gay travelers visiting Bangkok, for its large numbers of gay bars facing each other, heaving with crowds almost every night of the week.
Telephone and Balcony are the two largest ones where the tables are strategically placed so you are facing the ongoing people traffic coming in and out.
Stranger Bar is one of the smaller bars and our favorite. After many drunken nights here, we buddied up with its very charismatic co-owner Chakgai Jermkwan, to learn more about gay life in Bangkok and what is was like growing up as a gay boy in Thailand.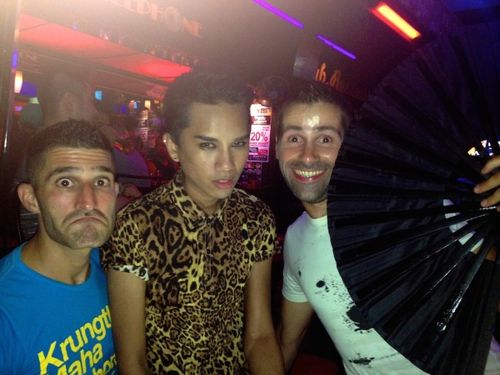 The Nomadic Boys with M, the owner of Stranger gay bar in Silom Soi 4, Bangkok
Sawadeekrap Chakgai! Where are you from and what do you do?
Good afternoon you two, I am Chakgai, but you can call me "M".
I am 29 years old, born in Thailand and raised in Bangkok. My husband and I have been together for over 8 years and in March 2012 we set up Stranger Bar in March 2012.
CONTINUED, AFTER THE JUMP…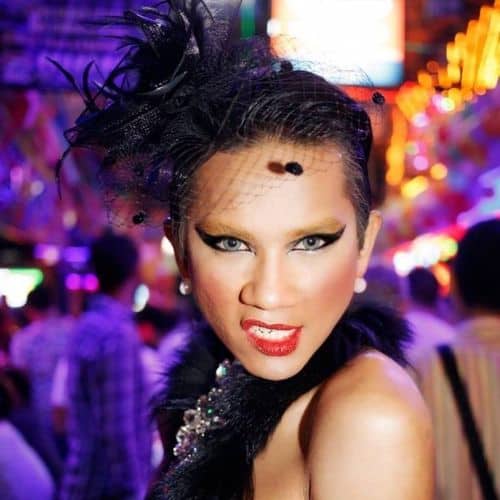 M showing off his F.I.E.R.C.E. side!
What does M stand for?
M is my Thai nickname. Like the Chinese, the Thai also choose an English nickname at a young age totally different from our Thai names.
So what Thai name do you suggest for us?
Ha ha – yes, Seb should be: "Fun Dee" (meaning "good dream) and Stefan: "Fun Den" (meaning "standing dream"). We normally do this for twins so I think this would suit you two he he he!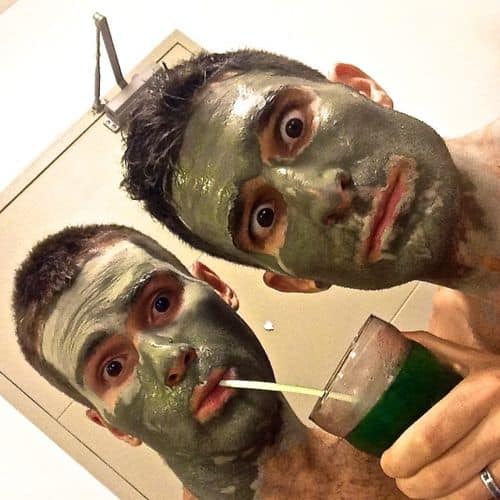 Fun Dee and Fun Den's face mask before a night out in Silom.
How was it setting up a gay bar in a road like Silom Soi 4 where there are so many already?
It was no different than opening up any other gay bar. If it's not a strip bar, the Thai government doesn't care if the bar is gay or straight but obviously cares that you meet all the other normal licensing requirements.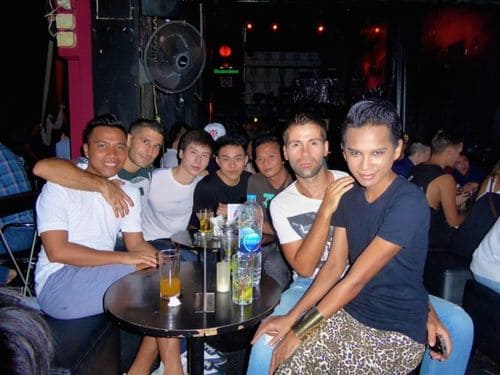 A night out with the boys at Stranger Bar in Silom Soi 4.
What is the relationship like between all the other gay bar owners such as Telephone and Balcony? Is it competitive or are you all friends?
I know them and we are good neighbors. No juicy gossip to spill here boys. In fact, when we first set up Stranger bar, some of them gave me very useful tips. We are of course in competition but in a good lighthearted way.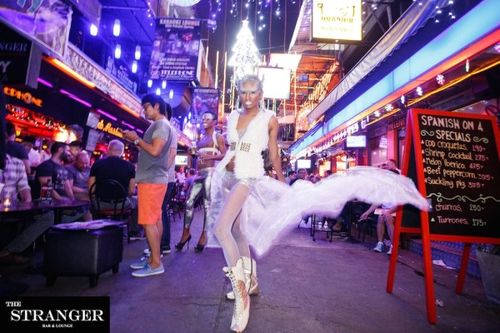 M flooring the competition in one of his finest outfits.
Are you out to your family?
I've never had a sit down formal chat about it with them because I never really needed to. I mean my photos are quite widely available to view on Facebook, aren't they!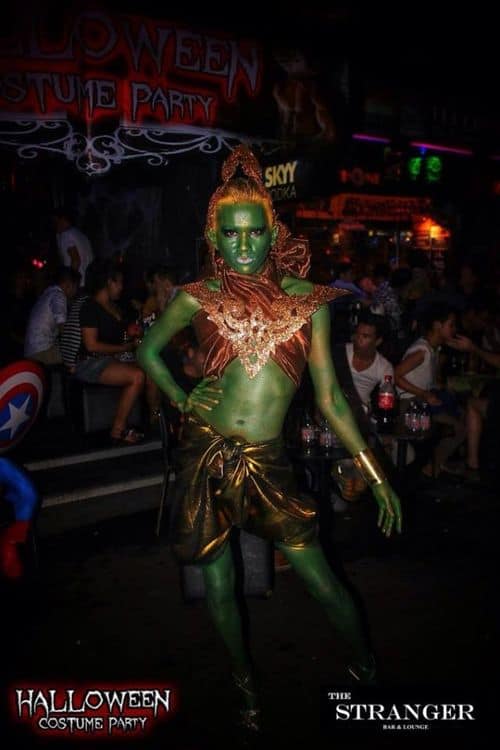 M showing off his fierce side with this stunning Halloween outfit.
What's it really like growing up as gay in Thailand?
I don't have any bad memories about growing up. I know I always looked very gay from a young age, which caused my relatives to ask my mother a lot of questions about me, but good old mum took care of them for me.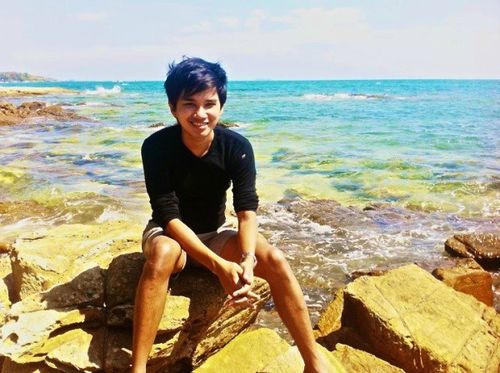 A young M posing on the beach in Koh Samet island.
Why do you think Thailand has a reputation for being such a gay magnet unlike other countries in Asia?
Ha! Because we are smart enough to market ourselves to attract the Pink Pound of course!
But in all seriousness, Thailand started early. We decriminalized sodomy in 1956, a decade before the UK did (in 1967) and before Illinois became the first state in the US to do so (in 1962).
Despite this, Thailand is still a conservative country. For example, there are still no anti-discrimination laws yet to protect the LGBT community and after getting married with my husband in Boston 3 years ago, our marriage is not recognized in Thailand. We are just two friends in the eyes of the law.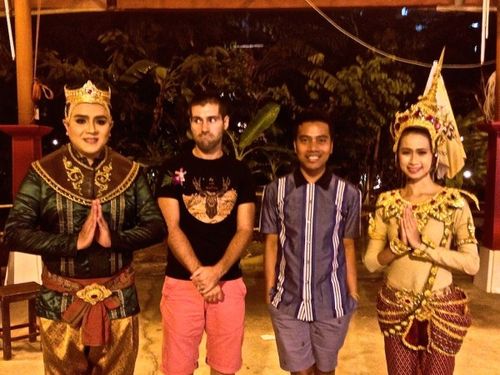 Discovering Thailand is not as pink as we once thought.
Will equal marriage laws be passed any time soon?
Yes but slowly. The Civil Partnership Act should soon become law, which will recognize same sex couples for the first time in Thailand's history.
But it is limited to certain rights like sharing the same surname and property rights and doesn't include parental rights or say anything about adoption.
Also you have to be at least 20 years old (the equivalent for straight couples is 17). Yet, this is still a good starting point and should be celebrated.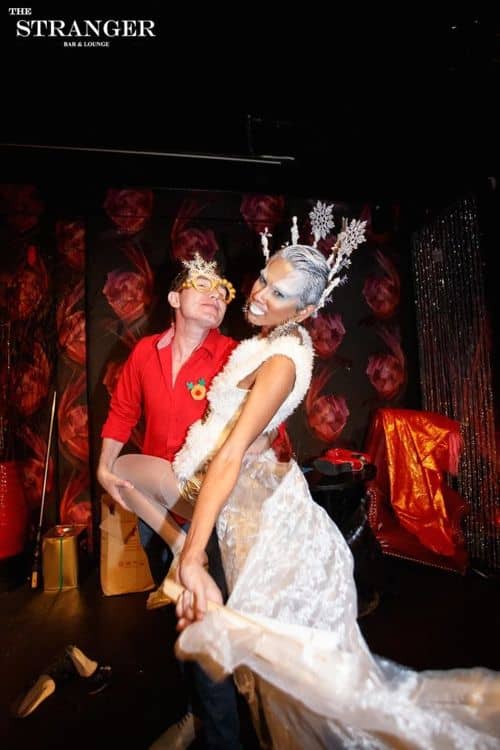 The happy couple of Stranger Bar: Sean and M.
Also, the world's first "three way" gay marriage took place earlier this year on Valentines Day in the central Uthai Thani Province between three young guys. They argued that even though they could not have a state ceremony, their union was sanctioned by Buddhist Law because it does not forbid polygamy!

The world's first three way marriage took place earlier this year in Thailand on Valentines Day.
Are there any gay pride events in Thailand?
The main one is Phuket Pride held every April, which has taken place since it started in 1999.
There used to be a Bangkok Pride from 1999 until 2009. But there hasn't been one since for a variety of reasons like disinterest from local Thai activists, lack of funding and homophobia from the police and government. I don't see one happening in a while unfortunately.
The first attempt of a gay pride in Chiang Mai went ahead in 2009, but there was such a strong backlash by red t-shirt militants that the police ordered it to be cancelled. There hasn't been one since in Chiang Mai.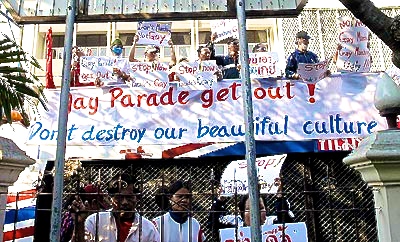 The protesters of the first Chiang Mai Pride in 2009 who caused the event to be cancelled by police.
Do you host any special nights or themed events at Stranger?
We do regular parties for Christmas, Halloween and New Years Eve and also have themed nights like our "Hook Up Party" charity event for HIV.
From May 2015, we will start a new night twice a month called "Pangina Heals Night" hosted by the famous Miss Pangina Heals (winner of "T Battle", the first and only drag queen competition in Thailand).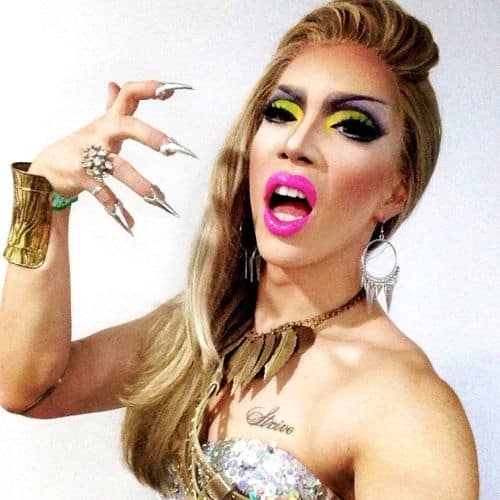 Miss Pangina Heels: winner of Thailand's first drag queen reality show.
What gay friendly accommodation can you recommend in Bangkok?
There is a nearby gay hotel called Tarntawan Place but to be honest, most places are very open minded here. A lot of our clients stay at places like the Sofitel Hotel or the Dusit Thani Hotel and a good nearby budget option is the Smile Society hostel.
What will your next big outfit be?
My darling boys, I never prepare. I just pick what feels right on the day and voila!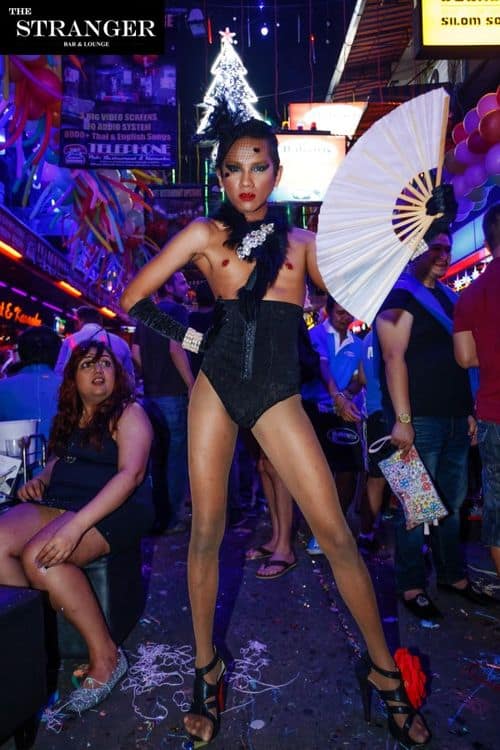 M showing off another stunning outfit on New Years Eve.
Finally M, after swapping tops with you recently, Stefan felt he had channeled into your tiger prowess and now has delusions about being a go go dancer at one of your next themed nights. What do you think?
Ahahahahaha! Give me my top back first you cheeky boy and then we'll talk…!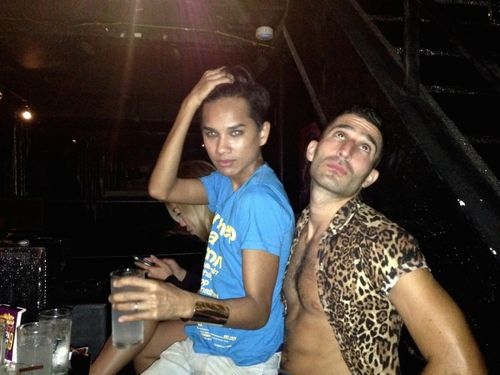 M and Stefan swap tops for one night only!
Watch our Thailand travel video and enjoy our underwater adventures as we island hopped through this beautiful country.
This article previously appeared in the gay travel blog of Nomadic Boys.