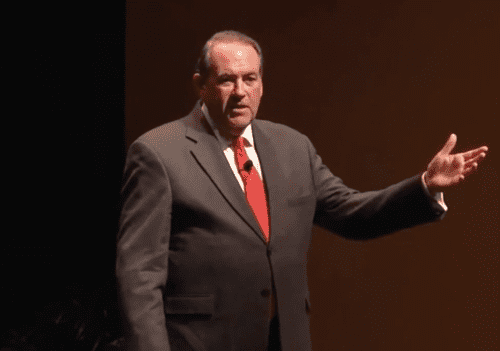 Mike Huckabee appeared at a "Family Leadership Regional Summit" in Iowa hosted by Bob Vander Plaats and The Family Leader. The potential GOP presidential candidate remarked that the fact President Obama telephoned Michael Sam after the football player came out is a sign of America's "utter collapse," reports Right Wing Watch. Huckabee also decried boycotts against anti-gay businesses, calling it "economic terrorism."
Said Huckabee:
"The values that so many of us hold dear are values that are under assault today. I never believed that in such a short period of time, the culture in America would go into utter collapse. If you told me just a few years ago that one day the President of the United States would use his precious time in the Oval Office to call people up simply to congratulate them for being gay, I would say, 'No, surely he'll call a veteran and thank them for their service, for losing a limb or a leg,' but even when Chris Kyle was murdered, his widow didn't get a phone call, but a gay football player who came out did."
Huckabee punctuated his statements with warnings that religious liberty is under attack in America, specifically citing the boycott against Chick-Fil-A several years ago after the company donated millions to anti-gay groups.
Watch Huckabee's "Chicken Little"-like view on the collapse of American culture, AFTER THE JUMP…