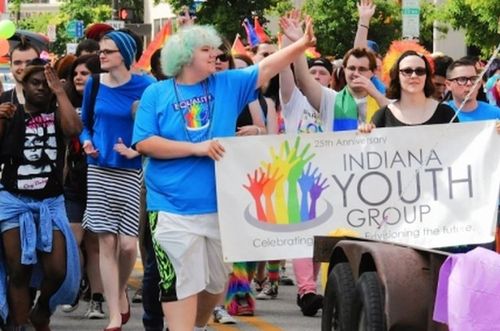 In the wake of supporters raising nearly $1 million for the homophobic Indiana pizzeria and Washington Florist Barronelle Stutzman, two counter GoFundMe campaigns are hoping to raise money for those who could actually use the financial aid: LGBT youth. 
The #Pizza4Equality campaign, created by activist Scott Wooledge, is currently raising funds to benefit Cyndi Lauper's True Colors Fund, which works to end homlessness among LGBT youth. 
From the GoFundMe page: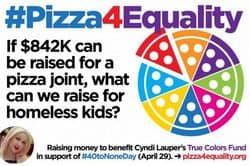 So I looked and saw that Cyndi Lauper's True Colors Fund has set April 29 as the first national #40toNoneDay to end #LGBT youth homelessness! And I thought, would it not be totally awesome if we equality supporters (and pizza lovers) could match that #MemoriesPizza  "charity" by April 29?  Can we match their amount and help homeless youth get off the street, learn life skills and get an education and jobs?
I'm an dreamer, but I say yes, we can!
The campaign has raised over $45,000 in the two days since it was created. Click HERE to donate. 
A separate GoFundMe is raising funds for Indiana Youth Group, which provides support services and social and leadership opportunities for LGBT youth.
From the "Support LGBT Youth in Indiana" GoFundMe page:
When Memories Pizza said they wouldn't serve pizza at a same-sex wedding, they were completely within their legal rights and still are. These expressions of intolerance and the ensuing fundraiser for hundreds of thousands of dollars send a terrible message to LGBT youth who already face more bullying, social pressure and higher rates of suicide.
Take a minute and, instead of trolling Memories on Yelp and being angry about it on Facebook and Twitter, donate $10; do something positive that will have a direct impact on LGBT youth in the state of Indiana.
I believe that we can and should out raise them 2x.
Over $24,000 has been raised so far. Click HERE to donate.