Indiana Gov. Mike Pence has signed into law a measure preventing the state's new "religious freedom" law from being used to discriminate against LGBT individuals.
Here's Pence's statement in full: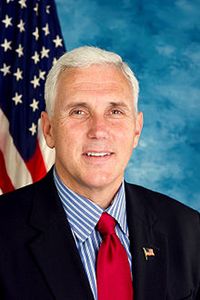 The freedom of religion for every Hoosier is enshrined in the Constitution of the United States and in the Indiana Constitution, which reads, 'No law shall, in any case whatever, control the free exercise and enjoyment of religious opinions, or interfere with the rights of conscience.' For generations, these protections have served as a bulwark of religious liberty for Hoosiers and remain a foundation of religious liberty in the State of Indiana, and that will not change.
"Last week the Indiana General Assembly passed the Religious Freedom Restoration Act raising the judicial standard that would be used when government action intrudes upon the religious liberty of Hoosiers, and I was pleased to sign it.
"Over the past week this law has become a subject of great misunderstanding and controversy across our state and nation. However we got here, we are where we are, and it is important that our state take action to address the concerns that have been raised and move forward.
"Last weekend I called upon the Indiana General Assembly to clarify that this new judicial standard would not create a license to discriminate or to deny services to any individual as its critics have alleged. I am grateful for the efforts of legislators, business and other community leaders who came together to forge this clarifying language in the law.
"Hoosiers deserve to know, that even with this legislation, the Religious Freedom Restoration Act enhances protections for every church, non-profit religious organization or society, religious school, rabbi, priest, preacher, minister or pastor in the review of government action where their religious liberty is infringed. The law also enhances protection in religious liberty cases for groups of individuals and businesses in conscience decisions that do not involve provision of goods and services, employment and housing.
"In the midst of this furious debate, I have prayed earnestly for wisdom and compassion, and I have felt the prayers of people across this state and across this nation. For that I will be forever grateful.
"There will be some who think this legislation goes too far and some who think it does not go far enough, but as governor I must always put the interest of our state first and ask myself every day, 'What is best for Indiana?' I believe resolving this controversy and making clear that every person feels welcome and respected in our state is best for Indiana.
"Our state is rightly celebrated for our pro-business environment, and we enjoy an international reputation for the hospitality, generosity, tolerance and kindness of our people. Hoosier hospitality is not a slogan; it is our way of life. Now that this is behind us, let's move forward together with a renewed commitment to the civility and respect that make this state great."
It remains completely legal to discriminate against an individual based on their sexual orientation or gender identity in Indiana, however. 
UPDATE: HRC reacts via graphic