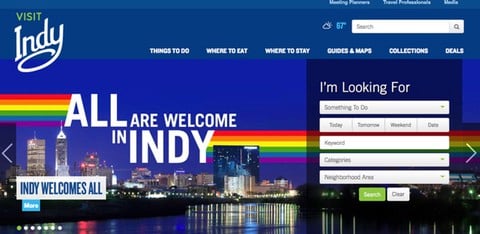 Several more cities and states have announced they're banning travel to Indiana over the discriminatory, anti-gay "religious liberty" bill.
D.C. Mayor Muriel Bowser has banned city-funded travel to Indiana:
"To ensure a constant voice in policy and practice in the District of Columbia in favor of equal treatment for members of the lesbian, gay, bisexual and transgender community, no officer or employee of the District of Columbia is authorized to approve any official travel to Indiana."
San Diego to ban city-funded travel to Indiana:
"We've directed the City's Chief Operating Officer to take the necessary actions to restrict publicly funded travel by city employees to Indiana if the law is not amended or repealed by next week."
Oregon Governor Kate Brown denounced Indiana's new law:
"Indiana's new law offends me. No individual, regardless of where they live or whom they love, should suffer discrimination. I urge state leaders in Indiana to take swift action to prohibit discrimination and reverse the damaging impact of this law. Oregonians continually demonstrate a strong belief in fairness and equal treatment under the law. As recently as 2013, Oregon voters have defeated proposals similar to Indiana's law, underscoring our shared values and rejecting discrimination. I encourage Oregonians to join me in expressing their concerns about this erosion of individual rights in Indiana and anywhere it may occur."
Vermont's Governor Peter Shumlin has banned state-funded travel to Indiana.
Denver's Mayor Michael Hancock has banned city-funded travel to Indiana:
"Denver is an inclusive city, and we take tremendous pride in that," Hancock said in a statement. "Due to the actions taken by the State of Indiana, we will join with other cities across the nation in suspending the use of city funds for official business to Indiana. This law is just wrong, plain and simple, and we will not tacitly condone discrimination through the use of taxpayer dollars."
Oakland's Mayor Libby Schaaf has banned city-funded travel to Indiana:
"As Mayor of Oakland, I join with jurisdictions, private citizens, businesses and other entities around the world in denouncing the State of Indiana's action and will continue to direct the City Administrator to deny the use of City dollars for travel to Indiana as long as this discriminatory law remains in effect."
Meanwhile, the Indianapolis tourism website was changed on Monday to feature a prominent rainbow flag and the tagline "All Are Welcome in Indy".
Indy's Senior Communications Manager Morgan Greenlee told BuzzFeed News: "What you're seeing is one method we are using to promote our stance on this bill."