The Louisiana House of Representatives unanimously adopted a resolution urging Justices Ruth Bader Ginsburg and Elena Kagan to recuse themselves from the marriage cases pending before the U.S. Supreme Court.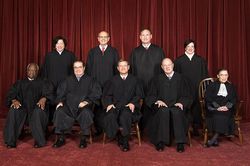 The unanimous vote appears to have come about because of inattention on the part of some Democratic members, the Times-Picayune reports:
Justices Ruth Bader Ginsburg and Elena Kagan "have each engaged in public conduct suggestive of bias," reads Louisiana House Concurrent Resolution 85, sponsored by state Rep. Valerie Hodges, R-Denham Springs. In engaging on the issue of same-sex marriage, the justices have "thus demonstrate(d) an inability to be objective," and should therefore withdraw from the Obergefell v. Hodges case, the resolution says.
…But according to a least one lawmaker, adoption of the resolution without a single "no" vote from House members on the floor was sort of an accident.
"I know I didn't pay attention," said state Rep. Karen St. Germain, D-Plaquemine. "Usually somebody does."
Oops.
St. Germain, who has been a sponsor of LGBT workplace non-discrimination legislation, said lawmakers may have been tired or focused on severe weather troubling the state as well.
Hopefully the lawmakers will be paying attention when the "religious liberty" bill crosses their desks.
The non-binding resolution now goes to the state senate.