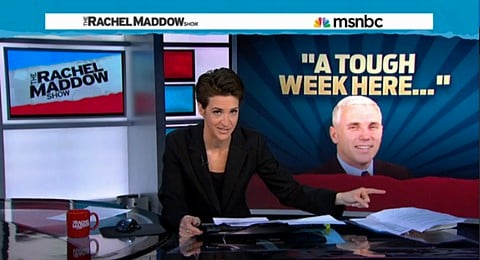 Rachel Maddow looks at the Terri Schiavo case ten years ago, segueing halfway through the segment to Mike Pence and the Religious Freedom Restoration Act (aka the anti-gay "religious liberty" law).
Maddow notes all of the potential 2016 GOP candidates are lining up behind Pence — Bobby Jindal, Rick Perry, Marco Rubio, Ted Cruz, Jeb Bush. Even Reince Preibus.
"It is a clear as day reminder of how conservative politics works in this country — at a very different level from public opinion….In the Terri Schiavo case 10 years ago and the Indiana legalize discrimination case today the rest of the country may have a very distinct revulsion for what is going on, for what politicians are doing…but inside the conservative movement they are listening to different voices, they are hearing different people, and if enough of them are in power, they get their way, as the country watches, slack-jawed and shocked, and they don't care."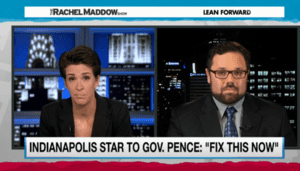 Maddow is joined by Tom Lobianco of the Indianapolis Star tfor a very insightful interview about the new law and if the paper's editorial position of "FIX THIS NOW" is going to be met.
Lobianco says the main drama right now os between the staunch social conservatives and moderate Republicans about how to change the bill. "It sounds like there might be a preamble that talks about what the law is supposed to do," LoBianco says. But moderates want more specifics in the bill itself.
Lobianco says public reaction was completely unanticipated and the bill was a "consolation prize" to the social conservatives that lost last year.
Watch the great segment, AFTER THE JUMP…