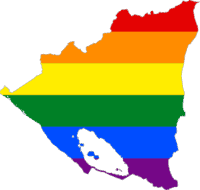 A recent revision to Nicaragua's Family Code is targeting LGBT families under the guise of "protecting" traditional heterosexual nuclear families. The new Code is primarily focused on building out a better social system for families to settle legal disputes. While teenage parents will have better access to more social programs to assist with the completion of their educations, the LGBT couples that might have adopted their children are being blocked from doing so.
"The new Family Code unifies in one body with its own guiding principles all the family laws," explained Carlos Emilio Lopez, deputy to the National Assembly. "It repeals all laws that are in contradiction with its principles while conserving positive measures and adding new aspects."
Going forward same-sex adults seeking to start families will be denied access to adoption agencies as well as being barred from using fertility treatments to have biological children of their own.
Additionally the Code's new language makes it so that LGBT-identified individuals cannot claim social security benefits and are stripped of their ability to inherit assets from family members. The Movement for Sexual Diversity, a coalition of LGBT advocacy organizations plans to file an appeal to challenge the new Family Code with the Nicaraguan Supreme Court later this week.