Ohio State Highway Patrol Troopers have released a final report regarding transgender teen Leelah Alcorn's suicide reports WLWT 5. Troopers say Alcorn died from blunt force trauma after she stepped in the path of a 2006 Freightliner semi-truck on Interstate 75 in Turtlecreek Township in December. Investigators found Alcorn's backpack with her laptop inside at the scene of the crash. Upon examination detectives found searches for suicide prevention and runaway assistance in the computer's search history but found no suicide note in the computer's system.
Troopers also noted that Alcorn's parents found their daughter's handwritten suicide note next to her bed the night before she died. Alcorn's mother originally threw it away but retrieved it at the investigators request. Investigators also uncovered an iChat on Alcorn's computer where she discussed ending her life with her friends: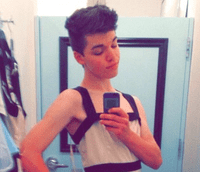 "I had my jacket and clothes and shoes on. My suicide note was queued on Tumblr, and I was ready to jump off the bridge next to my house that goes over I-71, but I decided to call a transgender suicide hotline and I basically cried my eyes out for a couple hours talking to a lady on there.
"This is very important to me, it's not like something that I want to do just because I want to (such as someone wanting to dye their hair) like this is something I have to do. If I don't, I will kill myself. That's how serious it is. I am so uncomfortable with my body and myself that if I don't do this I wouldn't be able to help myself but commit suicide."
Alcorn's suicide garnered attention in the media, spurring LGBT activists to create a rallying cry for trans rights. Earlier this month President Obama announced he supports banning LGBT conversion therapy for minors in response to a "We the People," petition drafted by LGBT activists dubbed "Leelah's Law," urging the government to ban the dangerous practice of LGBT conversion therapy.