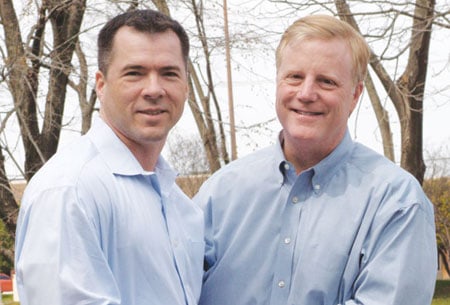 Vic Holmes and Mark Phariss are so confident the U.S. Supreme Court will rule in favor of nationwide marriage equality in June that they've already made their wedding plans. 
Phariss and Holmes, one of two couples challenging Texas' bans on same-sex marriage in federal court, were in Washington on Tuesday for oral arguments. 
The Houston Chronicle reports: 
"We put our money where our mouth is," Phariss told the Chronicle on Monday. "We have booked a site for a wedding. We have put down a deposit. We have hired a videographer. We have hired a photographer. We have the 'save the day cards' printed — all for a November wedding near Frisco." … 

Phariss and Holmes arrived in Washington early on Saturday. Phariss said his favorite part of the trip so far was a dinner hosted Monday night by gay rights group Freedom to Marry, to which hundreds of other gay marriage plaintiffs and their advocates from 30 states attended.

"We all have such similar stories. We've all been there in the trenches. We've all fought for marriage equality," said Phariss. "We all feel like we're all in the same boat and I mean – we feel like a little fraternity."
The Dallas Morning News reports Holmes and Phariss almost didn't get in to the courthouse on Tuesday, after someone cut in front of them in line:
Holmes was No. 49 in the line, Phariss No. 50. And yet, when the courthouse doors opened Tuesday morning, somehow they'd been pushed back one spot, leaving Phariss outside. Once inside, other members of the group figured out there had been one line-cutter and shamed her into giving up her seat to Phariss.
Meanwhile, Republican lawmakers in Texas are also trying to spoil things for Holmes and Phariss. And unlike the line-cutter, they don't appear to have any shame.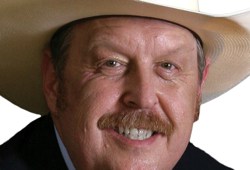 Last week, a Texas House committee advanced a bill by GOP Rep. Cecil Bell (right), which would prohibit state or local funds from being used to license or recognize same-sex marriages. LGBT advocates say the bill is blatantly unconstitutional, but BuzzFeed News warns that even after a high court ruling, such legislation could be "litigated almost interminably, possibly leaving certain rights for same-sex couples in limbo":
In this context, it's impossible to ignore the Supreme Court's 1973 Roe v. Wade decision, which found abortion was a constitutional right, but a right that must be balanced with each state's interest in regulating those abortions. Particularly in Texas, the legislature has pushed the regulatory envelope on Roe v. Wade and the laws that have followed have led to new lawsuits — with several rulings saying the state was too restrictive while several even more restrictive measures were left in place.

"We know from cases like Roe v. Wade that the power of the purse hasn't been challenged," said Rep. Bell, adding that the bill he is pushing will "set up an additional legal challenge."
Dan Quinn, a spokesman for the pro-LGBT Texas Freedom Network, compared GOP Texas lawmakers' resistance to marriage equality to their fight against desegregation: 
"Ultimately the result will be almost endless litigation that will be very expensive to taxpayers and plaintiffs, and ultimately Texas will lose, just like when it tried to block desegregation," Quinn said. "The question is: How much pain and heartburn are the state lawmakers willing to put the state through to get there?"
Both Republican Gov. Greg Abbott and Attorney General Ken Paxton issued statements Tuesday to mark oral arguments at the Supreme Court. But even Paxton, who's fought bitterly to deny rights to same-sex couples, appeared to acknowledged that the high court will have the final say: 
"At stake in this case is whether the people of the State of Texas—and people in the states across the nation—can make their own laws defining marriage," he said.