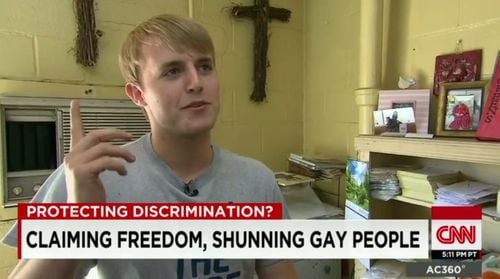 Georgia's "religious freedom" bill may be dead for now, but that isn't stopping some in the state from proudly speaking out in support of the legislation.
CNN's Gary Tuchman visited five florists in rural Jeff Davis County, Georgia who all said they support the new law that would shore up their ability to turn away gay customers.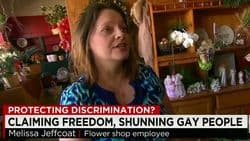 "[Jesus] died on the cross for me, so that's the least I can do for Him," said florist Melissa Jeffcoat, whose son Carlton (pictured above) is studying to become a Southern Baptist pastor. Asked by Tuchman if she'd serve adulterers and other Biblically-defined "sinners," Ms. Jeffcoat said she would, adding:
"[Homosexuality] is just a different kind of sin to me and I don't believe in it."
Luckily for these bigots, it's already completely legal to discriminate against LGBT Georgians even without the state's "religious freedom" bill. 
Watch, AFTER THE JUMP…
Related, "Indiana Pizza Shop Won't Cater to Gays, Is Happy with 'Religious Liberty' Law"