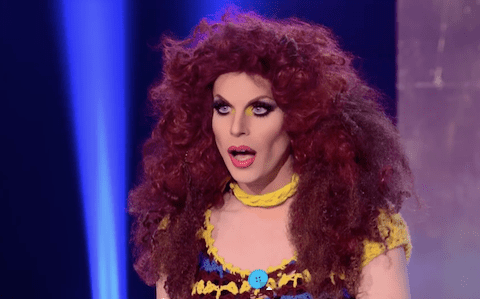 While the top of the heap on this season of RuPaul's Drag Race may seem pretty locked, there's quite a battle shaping up for the third spot in final three. Although our top two have seemed preordained for the last few weeks, the rest of the contenders have really been stepping it up.
Unfortunately, we've got to get through another group acting challenge this week. But! At least this one is inspired by legendary, iconic filmmaker, John Waters.
Let's talk about how our queens are stacking up this week, AFTER THE JUMP …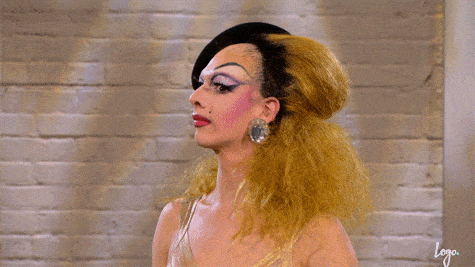 Our night begins with another Drag Race tradition. That's right, the library, hunties, is open. There were a few good reads (which I've included below), but, overall, not the gut-busting laughs we've gotten from previous seasons. (Maybe it just needed more puppets?) Then came another one of those group acting challenges with the pre-written scripts. Most of the time, these are tasteless and tacky and (worst of all) not really funny. Tonight's homage to John Waters' films at least had the filmmaker's twisted material to inspire.
Here's how we think the ladies did: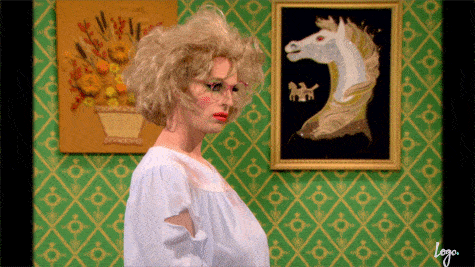 1. We're happy to report that Katya is continuing to shine. Her performance during the main challenge deserved a lot more praise than it received from the judges. As usual, her description of her runway look was one of the best moments of the whole episode. Tonight, she described her look as: "If Mary Elizabeth Mastrantonio barely survived a meth lab explosion, and then she was cast in a porno musical of Raggedy Ann."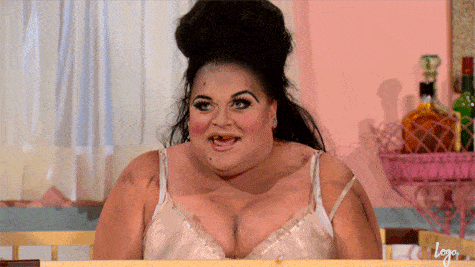 2. It'd take a mighty big misstep to not secure Ginger Minj a spot in the top three. She, predictably, slayed the musical acting challenge, and, if you've been watching Untucked, you know the glamour toad can read.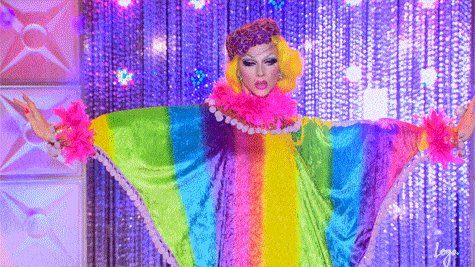 3. There's a three-way tie breaking out for third, but we've got to give the slight edge to Violet. Not only has she continuously become more and more likable each week, but her fashion has been consistently on point as well. OK, so she's no Meryl Streep, but compared to some of the other queens, she's quite the thespian.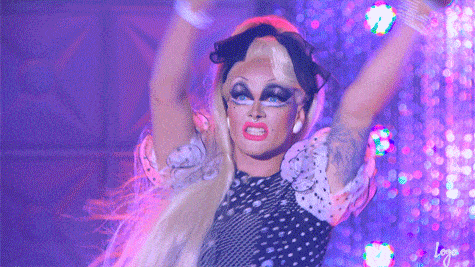 4. If I had my pick, I'd stick Pearl in my Top 3, but she just. can. not. act. She's got her own chilled out charisma, a unique aesthetic and, yes, (as Snatch Game proved) a sense of humor. She's just not good at these cheesy acting challenges, of which there have been way too many this season. She was outperformed by Trixie and Violet this week, but she's the queen I'd personally rather see in the finals. Plus, she had some great reads ("Kennedy Davenport, you've got your eye on the prize and your other eye on the crown.") She even went after Ru!
5. I'm as happy as the next squirrel friend that Trixie is back in action, but this week wasn't exactly the sort of tour de force that reminded everyone how much she deserved to be here. Her work in the challenges was better than the disasters, but by not matching Ginger's energy, she seemed all the worse. Next to Violet, Trixie gave the better performance, but in her skit, she fell flat. In the mini-challenge, she read all the other girls to filth. ("Ginger Minj, did you ever save Carol Anne from the poltergeist in the TV?") But it just doesn't seem like enough to unseat Pearl or Violet.
6. Kennedy is here on borrowed time. It was strange to see how much she struggled while filming her vignette with Katya, only to see it look just fine on film. She may not be the next to go (the middle of the pack is just too close at this point), but I'd be very surprised to see her in the final three.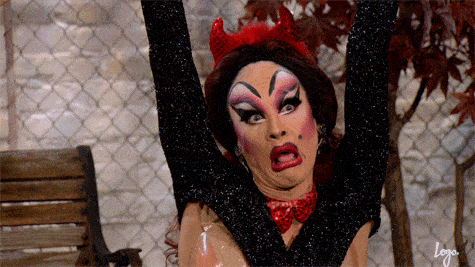 7. Was Miss Fame's lip sync one of the most lazy we've seen this far into a season? Love her to pieces, think she's super sweet, but we've hit the limits of her talents. She'll be missed, but not enough to keep her around much longer.
How would you rank the queens this week?