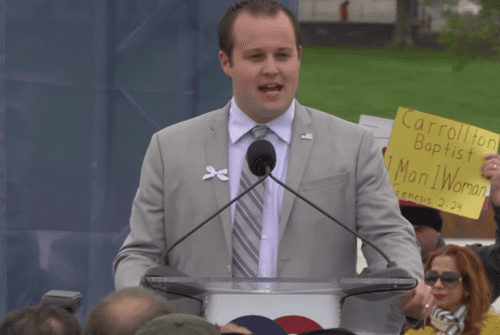 Update: Josh has resigned from his position at the Family Research Council as a result of the accusations. 
Yesterday, we reported Josh Duggar, the oldest son of reality TV's 19 Kids and Counting clan, was allegedly investigated for sexual abuse several years ago involving underage girls. Reports indicated that the allegations came from none other than Duggar patriarch Jim Bob, who brought his then 17-year-old son into the Arkansas State Police Station and spoke with a state trooper saying Josh was involved in inappropriate contact with a minor
Josh, who currently serves as executive director of the anti-gay hate group Family Research Council's lobbying arm, was not charged because the state trooper involved in the allegations didn't follow up on the case (the trooper was later convicted on child pornography charges and is currently serving 56 years in prison.)
With more information coming in, TMZ says it has learned some of the girls Josh allegedly molested were his sisters:
According to the police report, Josh fondled the genitals and breasts of the girls, some of whom were sleeping, but sometimes they were interacting with him … in one case reading a book.  
There was another reported incident 9 months later. According to the police report, the police were not immediately contacted. Instead, Jim  Bob, the dad, met with church elders and agreed Josh should be put in a treatment program.  The police report says Josh's mom, Michelle, said it wasn't really a treatment center … they simply sent Josh to a guy who was remodeling a building to do manual labor.
NY Daily News adds: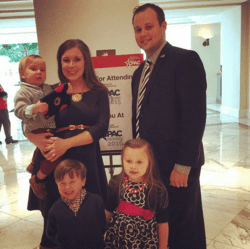 The family secret finally came out because of the discovery of a letter written by a family friend with knowledge of the incident. The letter was placed inside a book which was later loaned to a member of the Duggar family's church.
In 2006, the Duggar family was scheduled to appear on Oprah Winfrey's talk show. Prior to their appearance, an email was sent to Harpo Studios to alert them of the alleged sexual abuse.
The studio then faxed the letter to the Department of Human Services hotline, which led to the Springfield police opening an investigation. But this probe came to an end because the three-year statute of limitations had expired.
According to TMZ's account of the police report, one of the Duggar family members told investigators "this entire incident had brought the family closer to God." 
The 27-year-old is married with three children. 
[bottom photo via Instagram]