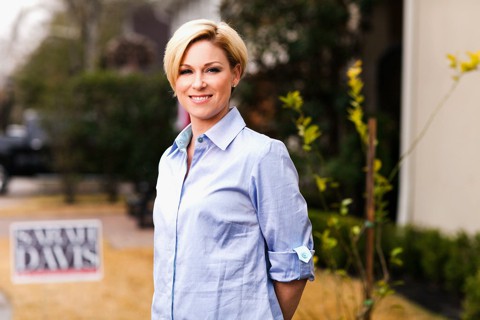 The first Republican Texas lawmaker in history has come out in support of same-sex marriage. 
GOP Rep. Sarah Davis, who represents a Houston-area district and had previously expressed support for civil unions, came out for marriage equality in an interview Thursday about her decision not to sign a hateful anti-gay letter issued by the House Republican Caucus last week.  
The Texas Observer reports: 
"I just don't agree with the sentiment of the letter," Davis told the Observer. "I don't feel the need to pass legislation or vote for legislation that prohibits two adults who love each other to be able to be joined in a civil union or marriage. It does not affect my marriage." … 

Davis noted that she's received endorsements from two LGBT groups, Log Cabin Republicans and Equality Texas. She was the first Republican to receive Equality Texas' endorsement, a decision that drew criticism from some LGBT advocates, in part because she hadn't come out for same-sex marriage.

"I haven't had an opportunity to vote, but I've spoken about the issue," Davis said. "In situations where I've been asked, I've always stated my position, so I don't think this is new ground that I've just staked out."
Meanwhile, the Texas House on Thursday approved the so-called "Pastor Protection Act" in a 141-2 vote. The state's two openly LGBT lawmakers voted in favor of the bill, including Democratic Rep. Celia Israel, who said on the House floor: 
"Let me reassure those pastors out there: Some fine day, my partner and I are going to get married in the great state of Texas. The Supreme Court will hopefully take care of that issue for us. When that day comes, rest assured to those pastors and preachers who take a more literal interpretation of the Bible, that my partner and I will not be going to them to bless our unions. I will be going to someone who loves us and respects us for who we are and the way in which we have taken care of one another. So if we see this issue as a reiteration of what is in the United States Constitution, which is a respect for religion, this Roman Catholic urges you to vote yes." 
The anti-LGBT Texas Pastor Council issued a hateful statement celebrating passage of the Pastor Protection Act:  
"This bill is a small step of protection in a much larger war against religious freedom raging across America and well underway in Texas," said Dave Welch, President of Texas Pastor Council Action, an ethnically and denominationally diverse coalition involving pastors in all major cities in Texas. "We are very pleased that SB 2065 survived efforts to weaken its scope that does nothing more than puts in Texas law protections for pastors to do what we have been doing since the birth of this nation – exercise our faith in obedience to God and with the support of our Constitution and laws."

Welch said they plan to revisit other bills that died during the session, particularly if the U.S. Supreme Court "goes rogue" and overturns Article 1, Section 32 of the Texas Constitution defining marriage as a union only of one man and one woman. "We will not yield on inch of the rights given us by God, the freedoms purchased by the blood of patriots and part of our national DNA to those attempting to recreate our moral laws, culture and laws according to those with a deviant sexual lifestyle or gender confused."