Matthew Eledge (below), an elementary school teacher, was informed that he wouldn't be coming back to Skutt Catholic, a school in Omaha, after he made the decision to marry his long-time partner. Though there were no complaints launched against Eledge, he was dismissed from his job soon after announcing his engagement to other faculty members.
Jon McMahan, Skutt Catholic's president, was quick to point out that the school was well within its rights to dismiss any teacher they felt were not aligned with the school's beliefs.
"If a staff member cannot commit to Catholic church teachings and doctrines, he or she cannot continue to be on staff at Skutt Catholic," he explained.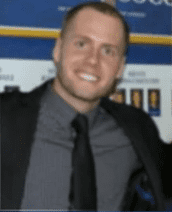 Soon after Eledge's dismissal an online petition was launched urging McMahan and Skutt's staff to bring the beloved teacher back. In a little under a month over 95,000 signed the petition, though McMahan has stated that he's firm in his decision.
Similarly undeterred, Skutt's student body continued to rally around the teacher. Students donned t-shirts proclaiming their support for Eledge during the school's annual fundraiser to create scholarships for students-in-need. Eledge joined 700 of his students last week for the school's fundraiser where they raised about $21,000.
Watch a report on the student efforts to rally behind Eledge here.