A Catholic priest at Seton Hall University in South Orange, New Jersey has reportedly been fired from his job after posting a NO H8 photo on Facebook.
"I've been fired from SHU for posting a pic on FB supporting LGBT 'No H8'." wrote the Rev. Warren Hall (pictured below) on Twitter Friday. "I'm sorry it was met with this response. I'll miss my work here."
Hall's initial tweet has since been deleted. On Friday he tweeted:
Grateful for all the support. Dont be angry!! Turn this into an opportunity for open/reasonable discussion on LGBT issues on a Cath Campus.

— Warren Hall (@Warrmeister) May 15, 2015
NJ Advance Media reports: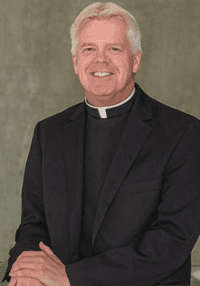 "Seton Hall University does not comment on personnel matters," spokeswoman Laurie Pine said in a statement. "The Archbishop of Newark appoints the Director of Campus Ministry, who serves at his discretion."
Jim Goodness, a spokesman for the Archdiocese, declined to comment on the specifics of why Hall was removed from the campus ministry position, but did confirm that Hall's "term as director of campus ministry is ending."
Goodness said Hall will still serve as a priest in the Archdiocese of Newark, but will have a new assignment.
A spokesman for the Roman Catholic Archdiocese of Newark, Jim Goodness, declined to disclose the reasons for Hall's 
A change.org petition demanding Hall's reinstatement already has over 2,500 signatures. 
From the petition:
This action is not in line with the teachings of Jesus Christ, nor is it line with the words of Pope Francis, current leader of the Roman Catholic Church.
The Washington Post adds Hall's firing "comes as the Catholic university's men's basketball team is recruiting Derrick Gordon, who is the first openly gay Division I men's basketball player."