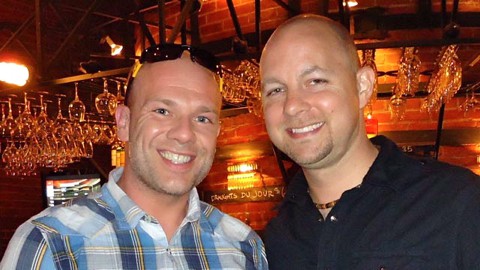 A federal judge has again thrown out a gay couple's lawsuit against United Airlines alleging that a baggage handler removed a sex toy from their bag and taped it to the outside to humiliate them. 
Last week we told you how the lawsuit from Christopher Bridgeman and Martin Borger was finally headed to trial four years after the incident. But after three days of testimony, U.S. District Judge Kenneth Hoyt granted summary judgment to the airline. 
The Houston Chronicle reports: 
Hoyt decided that the plaintiffs never proved their case, which remains a "whodunit," the judge noted, because no one with TSA or United was revealed as the definite perpetrator in the mystery of the rifled and manipulated bag.

"If you have two operatives and you do not eliminate one of those operatives by clear and convincing evidence, then you cannot go to judgement. There's nothing to submit to the jury – especially in light of the fact that you didn't sue both of them," Hoyt explained from the bench.

"You have not presented clear and convincing evidence that TSA did not handle these bags and cause the situation that occurred. … In fact we know TSA handled these bags. We know that they scan them and in many instances they go into bags."
The couple's attorney says he plans to appeal Hoyt's decision. Hoyt initially threw out the case in 2012, only to have it reinstated by the 5th U.S. Circuit Court of Appeals.
In case you're wondering, United Airlines maintains a perfect score of 100 on the Human Rights Campaign's Corporate Equality Index.