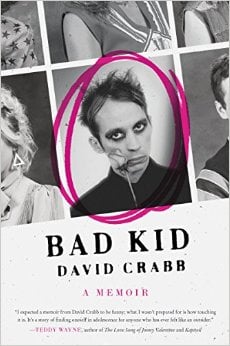 I stayed up all night reading this hilarious memoir of growing up gay in the early 1990s, which is as addictive as the mind-altering substances that fill its pages.
In his last year of middle school in San Antonio, David Crabb—his bangs newly bleached—spends his lunch periods blissfully braiding his girlfriend's hair and gushing about Taylor Dayne. But these idylls are interrupted when the school bully smacks him over the head with an encyclopedia, and the increasing calls of "faggot" in the hallways make it harder for him to ignore his locker room feelings after gym class.
There are other cases of anti-gay harassment in these pages, but what's remarkable is how free this very funny book is of the usual coming out traumas. His mother's eagerness to overshare—"open and honest," she says before each cringeworthy revelation—is almost as difficult for David as his father's discomfort with homosexuality, and neither parent ever gives him reason to doubt their love.
In high school, David meets Greg, a handsome, extremely fashionable fellow 9th grader who introduces him to Erasure and cigarettes and some pretty glorious dance moves you might recognize from your own high school career: "the 'I'm Balancing on a Tightrope' walk, the 'Help, I'm Caught in a Sexy Spiderweb' sway, the 'Here, Let Me Erotically Deal this Deck of Cards' hand flourish."
They become inseparable, and one night while they're sitting face-to-face with their hands on the plastic planchette of a Ouija board, David blurts out, "I think I'm gay." Greg reciprocates with his own coming out—confirming what has been obvious to the rest of us for dozens of pages—and for the rest of their high school careers we watch the two of them teach each other how to be gay in a peculiarly early-90s New Wave way of lavishly gelled hair and tight jeans and far too much foundation. Thank God this book has pictures.
David's other great friend from these years is Sylvia, an older girl he and Greg meet in a teen club one night and who wastes no time introducing David to pot. A self-professed "fag hag," she continues Greg and David's gay education, sneaking them into their first gay bars and teaching them about ball culture and what it means to be read.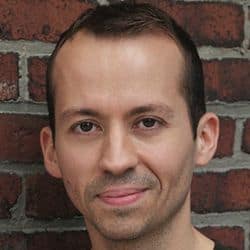 She also teaches them about drugs. What starts with pot quickly extends to acid, ecstasy, cocaine, and a bewildering array of household chemicals: VHS cleaning fluid, Scotchgard, Freon, even a dismantled Vicks inhaler. Scenes of inebriation are one of this book's marvels: Crabb writes them in a way that gives us access to the experience of being high, with all its wonder and sense of boundlessness, while also letting us see how ridiculous David and his friends are in their drug-addled hijinks.
And not just ridiculous: also very much at risk. As his drug use increases and Sylvia's adventures and dares grow more and more deranged, David comes to realize that even as his friends have enriched his life, they're also pushing him toward experiences he might easily not survive. As he thinks late in the book, they "exposed me to the very danger [they] saved me from."
By the end of high school, David realizes how lucky he is to have parents who love him enough to intervene, moving him away from his friends without cutting him off from them entirely. I'm not sure I can call to mind another memoir that is so entirely free of rancor. No one is a monster in this book; almost no one is willfully cruel. What fills these pages instead is wonder at the luck of having been part of such an absurd, wondrous world, and love for the people who inhabited it.
Generous and big-hearted, Bad Kid is the first great read of the summer.
Previous reviews…
Mark Merlis' 'JD'
Helen Humphreys' 'The Evening Chorus'
Kim Fu's 'For Today I Am A Boy'
Joyce Brabner's 'Second Avenue Caper
Garth Greenwell's debut novel, What Belongs to You, is forthcoming from Farrar, Straus and Giroux in early 2016. His short fiction has appeared in The Paris Review and A Public Space. A recent graduate of the University of Iowa Writers' Workshop, where he was an Arts Fellow, he lives in Iowa City. Connect with him on Facebook and Twitter.
Coming up tomorrow, Crabb reads from Bad Kid in the next installment of our TowleREAD series.