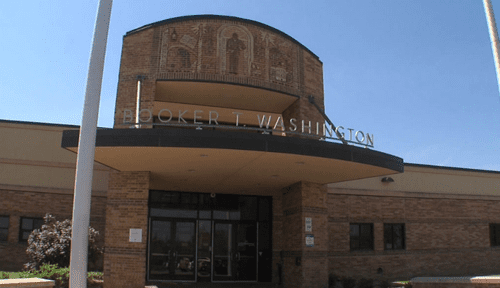 Like many schools across the country, Tulsa, Oklahoma's Booker T. Washington High participated in the nationwide Day of Silence last month to show its support for LGBT youth. While many of Booker T. Washington's students stood in solidarity with their queer peers by taking a temporary vow of silence, a handful saw the demonstration as an opportunity to lash out. 
A poster promoting the Day of Silence was vandalized by a group of students, one of whom decided to record their actions. Footage of the vandalized poster soon made their way onto social media along with a number of homophobic tags. According to the Associated Press nine different students "liked" the video depicting the vandalism.
The two students thought to have been the lead instigators were given significant suspensions that would keep them both out of school for at least ten days. One of the students, explained Tulsa Public School representative Chris Payne, was no stranger to causing trouble in the school.
"He has had a pattern of behavior. There had been other incidents — he had poured water on incoming freshmen who were LGBTQ students," Payne explained. "There were nine additional suspensions (for three days each) for students who went out on social media and said they liked the video."