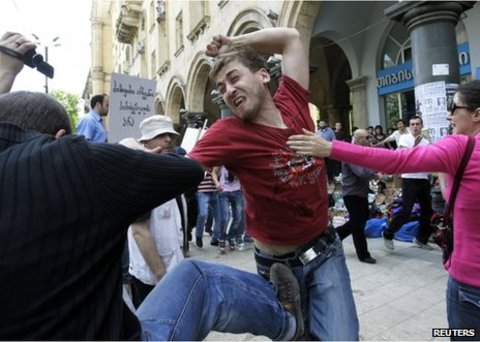 Georgian gay rights activists won a small victory after the European Court of Human Rights in Strasbourg ruled on May 12 that Georgian authorities must compensate gay-rights activists after they failed to protect them from assaults at a gay-pride event in May 2012 reports RFERL.org. 
The 2012 incident involved activists attempting to host the nation's first gay pride march in Tbilisi to celebrate the U.N.'s International Day Against Homophobia. However, orthodox clerics and activists attempted to block the peaceful LGBT activists; many of the LGBT activists suffered physical and verbal assaults at the hands of the orthodox activists. 
LGBT Tbilisi-based group Identoba and dozens of other activists are expect to receive between 1,500 and 4,000 euros ($1,675-$4,465) in compensation from the government. The ECHR also ruled that a violation of Article 3 occurred that prohibits individuals from enduring inhuman or degrading treatment in conjunction with a violation of Article 14 that bans outright discrimination.
Since 2012's event Georgian LGBT activists have experienced escalating violence at demonstrations and rallies from Georgian Orthodox Church clerics and proponents.