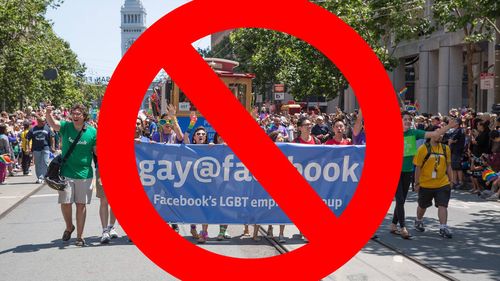 Despite promising that it would no longer antagonize its LGBT users, Facebook is still freezing the accounts of people who aren't using their legal names. Last fall Sister Roma and other vocal members of the San Francisco queer community rallied together in protest of Facebook's policy, demanding that people be allowed to use whichever personae they chose.
Many queer-identified people, Roma and others have asserted, use social media as a means of maintaining identities separate from the ones embody with their friends and family. For many drag performers and those yet to come out, being able to have LGBT-centric digital identities not tied directly to their legal names can prove to be a powerful and necessary.
After initially asserting that the social networking giant would stand by the policy, Facebook executives eventually backtracked, apologized, and promised that the company would actively work to "fix" it problems. Apparently, however people who're being reported for using stage and performance names are still being frozen out of their accounts.
"We've met with Facebook four times, and we kept trying to stress to them the importance of identity and that their real name policy is being used to discriminate and bully our community," Sister Roma intoned. "When you can report a profile as using a fake name, anybody can be one click away from being suspended."
To its credit, Facebook has made some headway with the way that it handles accounts that have been flagged. The social network no longer demands that people provide government-issued identification to verify people's identities. People are now able to submit other forms of identification that align with the names they assert online, but Facebook still insists that people stick to their birth names.
"We are committed to ensuring that all members of the Facebook community can use the names that they use in real life," Facebook reps explained to the San Jose Mercury News. "Having people use their authentic names makes them more accountable, and also helps us root out accounts created for malicious purposes, like harassment, fraud, impersonation and hate speech."
For Sister Roma, though, requiring any form of identification whether it be governmental or informal is too much of a burden to place on people. A petition urging Facebook to further change its policy is currently circulating with nearly 2,000 signatures, and a protest outside of the company's HQ is scheduled for June 1st. The petition calls for Facebook to change its policy or be banned from marching in upcoming LGBT Pride parades in San Francisco and New York. 
"What we've been saying until we're blue in the face to Facebook is there are many people, especially LGBT and in the transgender community specifically, who don't have a piece of paper or a government issued ID that proves authentic identity," she insisted.