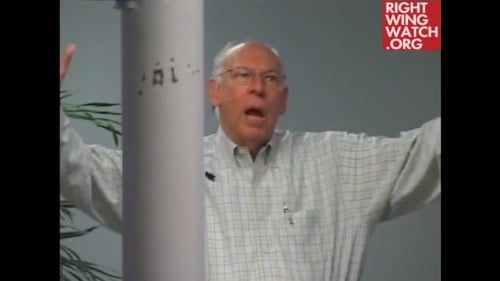 Ted Cruz's whacko father is at it again.  
Rafael Cruz, a preacher from Lewisville, Texas, addressed a Republican group in Alvin, Texas, the day after the U.S. Supreme Court heard oral arguments on same-sex marriage last week, according to Right Wing Watch: 
While boasting that his son, Ted Cruz, has introduced two measures in the U.S. Senate to block a Supreme Court marriage equality ruling, Cruz told the audience that "we are going to have to stand firm on the agenda to destroy America."

"I lost my freedom once, I'm not willing to lose it again. I will die fighting before I lose it again and so should you," he added.
Rafael Cruz went on to say that same-sex marriage will lead to pastors being forced to perform gay weddings, even though that would violate the First Amendment and has never happened in any state where it's legal. He also said America is at a crossroads and Christians must choose between obeying God and obeying government. 
The question is, if you're seeking to pass laws banning same-sex marriage, aren't you ultimately advocating that people obey government? If you're going to obey God, why even bother with the government part? Why not just take up arms and "die fighting"? Better yet, just hurry up and die. 
Watch clips from Cruz's speech via Right Wing Watch, AFTER THE JUMP …