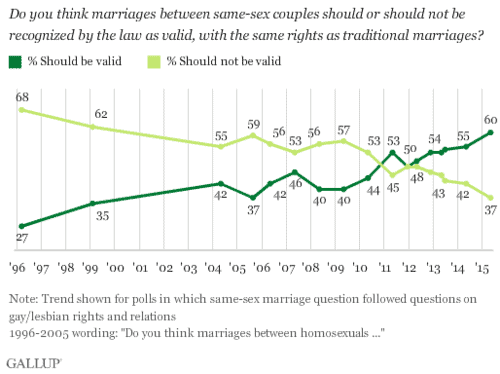 Last year, we reported that nationwide approval for same-sex marriage had reached an all-time high according to Gallup, which then found that 55% of Americans support same-sex marriage. Those numbers have soared even higher in the 12 months since, now reaching 60% approval on the eve of the Supreme Court's decision on same-sex marriage. As Gallup reports, support for same-sex marriage is also at an all-time high among both major political parties:
Though same-sex marriage continues to be politically divisive, support for its legal status has reached new highs among Americans of all political stripes — with Democrats at 76% support, independents at 64% and Republicans at 37%. […]
The party divide between Democrats and Republicans may hinge largely on the age groups that compose each party. Gallup has found that younger Americans are significantly more likely to lean Democratic, while older Americans skew Republican. And while majorities of each age group under 65 support marriage equality in 2015, those aged 65 and older are still more likely to oppose it. This is a new phenomenon for the 50- to 64-year-old group. Last year, just 48% of these middle-aged Americans supported legally recognizing gay marriage. But in 2015, this figure has climbed to a majority of 54%.
Gallup also considers the implications of these findings, attempting to read the political tea leaves so to speak:
National support for marriage equality has been fairly steady in its upward climb, and is more than double what it was in 1996 when Gallup first polled on the issue. A clear majority of Americans now support the issue. The increase among Americans — an increase seen in all major political parties — comes in the midst of a string of legal victories ruling in favor of same-sex couples seeking to be treated equally under the law. […]
While there has been uneven growth in support among Republicans versus Democrats, both groups have become more supportive. The remaining broad partisan divide, however, underscores how contentious the issue will continue to be as the 2016 election process unfolds.
Read more on Gallup's findings, HERE.