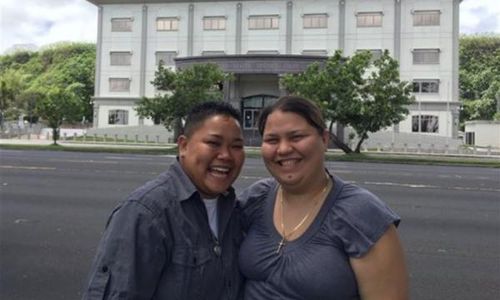 Kathleen Aguero and Loretta Pangelinan, the lesbian couple challenging Guam's same-sex marriage ban are not giving up on their fight to bring equality to U.S. territory. Earlier this week the couple's joint legal team further pressed Chief Judge Frances Tydingco-Gatewood to dismantle the ban ahead of the U.S. Supreme Court's upcoming decision. They are now moving for a summary judgement that would technically allow gay marriage in Guam ahead of the Supreme Court's ultimate ruling.
Previously Guam's Governor, Eddie Calvo, suggested that Guam's courts hold off on making any sort of move to strike down the gay marriage ban until after the Supreme Court's decision. The couple's legal team, which already gave the Governor's defense time to prepare and introduce new arguments, feels as if their opposition is merely stalling the inevitable.
"This court has already considered and rejected the defendants' calls to 'wait and see' what the U.S. Supreme Court does or does not do," Aguero and Pangelinan's attorneys expressed in a written statement.  "The material facts are undisputed, the controlling law is undisputed. The issues could not be clearer. Frankly, neither could the outcome. 
Kathleen Aguero and Loretta Pangelinan's next court date is set for June 5th.
In related news, marriage equality plaintiff Jim Obergefell is expected to speak at the University of Guam spring graduation on Sunday.