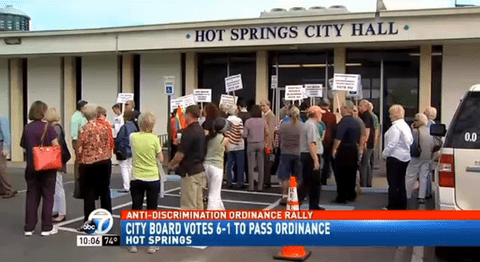 On the same day that anti-gay former Arkansas Governor Mike Huckabee announced his second bid for President in Hope, the nearby city of Hot Springs passed an ordinance that will protect city employees and vendors from discrimination on the basis of gender or sexual orientation. The ordinance was approved by the Hot Springs City Board with a vote of 6 in favor and 1 opposed.
Hot Springs is following in the footsteps of Little Rock, AR which also recently passed an LGBT non-discrimination ordinance in the wake of the state's passing an anti-gay religious liberty bill.
Public Comment was heard by the board from both sides for about an hour and a half. 
Hot Springs City Attorney Brian Albright said the ordinance is designed to do three things. The city will treat vendor equally and not discriminate on any basis including sexual orientation. City Employees will treat the public and customers the same way, and any vendor or contractor with the city will follow the same policy.
"We are going to protect our citizens, same, equal and give everyone the right they should have," said Author of the bill and City Director, Becca Clark.
Prior to the board meeting on Tuesday, hundreds of those who opposed the ordinance and supported it gathered outside City Hall.
"I find that there are problems with unintended consequences. In other words, what is sexual orientation, is it just LGBT? Does it include pedophilia? Their are other things that may be included in the term sexual orientation," said Dr. Jack Sternberg of the Garland County Tea Party.
"The primary thing it would do in helping hot springs would create the image of an open and diverse city, that's the key," said Bob Van Hook of Hot Springs Gay Pride. 
Present at the hearing was HRC President Chad Griffin's mother who testified in front of the board. Griffin is a native Arkansan. 
The ordinance will go into effect in 30 days. While the ordinance contains no criminal provision, a city employee may be terminated for violating the ordinance.
Watch a news report on the passing of the NDO, AFTER THE JUMP…
Proud of mom. She's testifying for an inclusive nondiscrimination ordinance in Hot Springs, AR tonight. pic.twitter.com/L4tSRpv1XN

— Chad Griffin (@ChadHGriffin) May 6, 2015