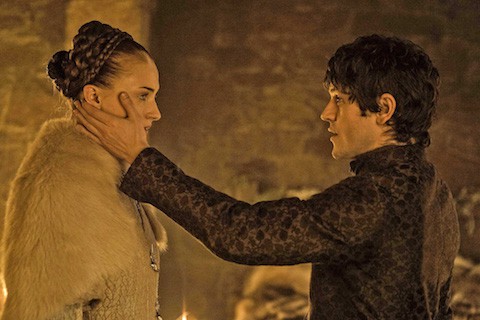 There wasn't a lot of bloodshed in tonight's episode of Game of Thrones, "Unbowed, Unbent, Unbroken," but that didn't make it any less brutal. You know it's a rare wedding on this show that doesn't include some of sort of tragedy, and tonight's nuptials were no exception.
Let's discuss what happened after they went down the aisle, AFTER THE JUMP …
Meanwhile, In Braavos …
Arya Stark (Maisie Williams) is wondering now that she's got the hang of this whole corpse washing thing, can she please see where all the bodies go now? The next step in the Faceless training, young Padawan, is learning to tell a really good lie. No, no. Not just giving yourself a cute pixie cut and pretending to be a stable boy, but a really convincing, Streep-level ability to spin a believable tale. The Waif (Faye Marsay) gives her a taste of how it's done, but it's Jaqen (Tom Wlaschiha) that really puts her through her paces. He gets her to practice her lies, and when she fails to make him believe what she's saying he swats her with a switch. He gets particularly violent when she claims she hated the Hound, which, aw?
She gets her chance to practice her new skills when a man brings his ill daughter to the House of Black and White. He's already done all he could, and she is in so much pain. So, young Arya tells the young girl that she was sick like her once, and her dad brought her there to drink the magic water. Arya soothes the girl by telling her the water will heal her, when she knows fully well it will kill the girl.
That well-meaning manipulation is enough to earn her a trip to where the bodies go. Jaqen leaves a door open allowing Arya to see a great room with huge columns covered in faces, many, many faces.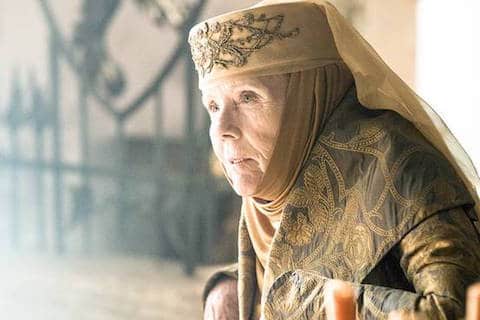 Meanwhile, In King's Landing …
Yas, kween, Lady Olenna (Diana Rigg) is in town. Her meeting with Cersei (Lena Headey) about the incarceration of her grandson, Ser Loras (Finn Jones), was littered with reads and side-eyes. Everyone's talking about how Cersei remarked of Olenna "Ah, yes, the famously tart-tongued Queen of Thorns," only to be met with Olenna calling the Queen Mother, "a famous tart." However, I had a bigger chuckle when Olenna grew tired of watching Cersei pretend to ignore her ("Put the pen down, dear, we both know you're not writing anything"). Cersei explains that it's not even a trial! It's just a gentle little inquest. No big thing! She's sure it will all blow over.
The High Sparrow (Jonathan Pryce) is overseeing the inquest. First, he questions Ser Loras. The handsome knight categorically denies the charges. Case dismissed, right? Not quite so fast. Instead, Queen Margaery (Natalie Dormer) is called to the stand. She also denies Loras' affairs with men. Great. The glove does not fit, etc. Wait, wait, the inquest isn't over yet. One more surprise witness: Olyvar (Will Tudor), Loras' paramour from earlier this season. In a turn that was hard not to associate with the Michael Jackson trial, Olyvar sends Loras up the river by identifying a birthmark in a sensitive area. That's all the High Sparrow needs to hear. Loras is to be locked up for a formal trial, and, for her lying, so is the Queen!
It's a busy day for Cersei, who also has a meeting with Lord Baelish (Aiden Gillen). She wants to be sure he's still loyal to the crown, which he says he is. He tells her that Sansa (Sophie Turner) is still alive, Stannis (Stephen Dillane) is going to take Winterfell, and, while the Boltons and Baratheon are busy hacking each other to bits, Baelish and his men will swoop in and take Winterfell for the crown. Then, she can make him Warden of the North. Cersei likes the sound of all this, as long as Littlefinger can deliver Sansa's head on a spike.
Meanwhile, In Dorne …
Jaime (Nikolaj Coster-Waldau) and Bronn (Jerome Flynn) find Myrcella (Nell Tiger Free) and attempt to "save" her. The only hitch is that, in a classic teen romance, she's actually fallen for her betrothed and, rival families be damned, they're in love! There's not much time to debate, because Oberyn Martel (Pedro Pascal)'s daughters, the Sand Snakes, are here to kill Myrcella. A skirmish breaks out, but it doesn't last long before a guard, Areo Hotah (Deobia Oparei) breaks it up and seizes the Sand Snakes, Bronn and Jaime. Bronn got a little cut during the dust-up, which seemed minor, but let's not forget the Martels' love for poisoned blades. Stay safe, Bronn!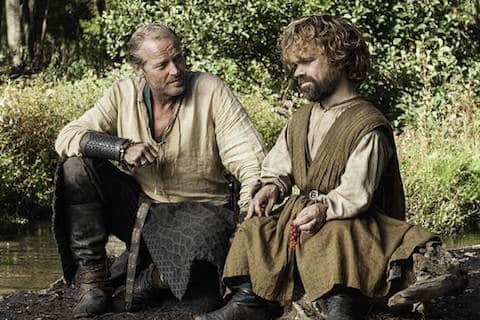 Meanwhile, En Route to Meereen …
Our other favorite traveling duo, Jorah (Iain Glen) and Tyrion (Peter Dinklage), are starting to open up to one another. Jorah tells Tyrion why he believes in Daenerys so much (because of the fire and the dragons and the whatnot), and then Tyrion tells him that Jorah's father, the former head of the Night's Watch, is dead. Cool story. Thanks for that. Tyrion tries to be sensitive about it, but the two don't have much time to process their feelings, because they're set upon by slave traders. Their attackers first plan is to sell Jorah off, and then murder Tyrion and sell his magic dwarf schwanz.
The slave traders casually drop into conversation that they've reopened the fighting pits in Meereen, which inspires Tyrion and Jorah to convince them to take them there so that Jorah can make them rich fighting in the pits.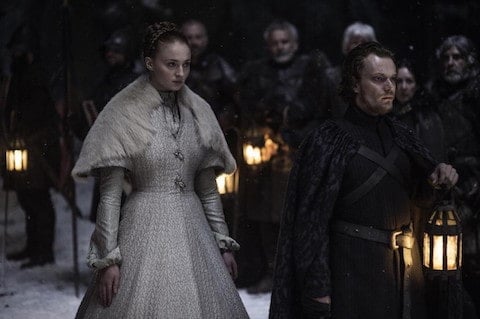 Meanwhile, In Winterfell …
Ho boy, so we've saved the worst for last. It's time for Sansa and Ramsay (Iwan Rheon) to get married, which, as we all know by now, is a terrible thing to happen on Game of Thrones. First, Ramsay's jealous side-piece Myranda (Charlotte Hope) tries to scare Sansa by telling her about some of Ramsay's former cruelty. Sansa shuts that down real quick, telling her, "I am Sansa Stark of Winterfell. This is my home, and you can't frighten me." On the one hand, good on Sansa for not letting Myranda intimidate her. Now if only Sansa was able to shut her down AND heed her warning. The wedding is already uncomfortable enough with Theon (Alfie Allen) giving away the bride, but it's in the honeymoon suite that things get even more tragic.
First, Ramsay asks a series of questions inquiring about her virginity, then he rips off her gown and rapes her, but not before demanding Theon stay and watch his childhood friend get brutalized. It's a sickening scene that feels awful to watch. The camera lingers on Theon, whose pained face manages to convey what's happening, even if we don't see much of the actual assault. Whether that's Game of Thrones' way of sparing some of Sansa's dignity or diverting attention off of her and onto Theon is a matter of discussion. This scene wasn't in the books, so it's also up for debate how necessary it was for this season's storytelling. Did we really need another reason to despise Ramsay? Could anything else have snapped Theon out of his weird Stockholm syndrome? Hasn't Sansa suffered enough?
What did you think of the episode?