John Diehl, Missouri's anti-gay Speaker of the state's House of Representatives, has resigned in the wake of his sexting scandal with an unnamed college freshman intern, the St. Louis Post-Dispatch reports: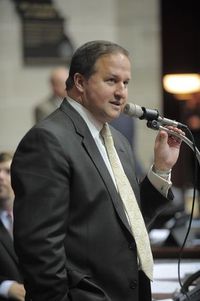 "For the good of my party, the caucus, and this state, I'm not going to further jeopardize what we have accomplished this year and what can be accomplished in the future," the Republican from Town and Country said in a statement released Thursday afternoon. "Therefore, I will be resigning the position of Speaker of the House and the office of State Representative in a way that allows for an orderly transition."
More from Diehl's statement:
"In my time in the General Assembly, I'm proud of my long legislative legacy that was built upon being honest with members and doing what is in the best interest of our caucus and this body. I am proud to have led us to the largest Republican majority in state history, the first income tax cut in nearly one hundred years, and an override of the governor's veto of Missouri's congressional redistricting map.
"I have acknowledged making a serious error in judgment by sending the text messages. It was wrong and I am truly sorry. Too often we hear leaders say they're sorry but are unwilling to accept the consequences. I understand that, as a leader, I am responsible for my actions and I am willing to face the consequences.
Diehl's anti-gay track record was reported on by Right Wing Watch:
Earlier this year, Diehl and the president pro-tempore of the state Senate filed an amicus brief in defense of the state's anti-gay-marriage amendment, leading the Missouri Family Policy Council, the state affiliate of the Family Research Council, to praise the speaker "for demonstrating moral leadership and true integrity in standing up for the sacred institution of marriage and the family values of the people of Missouri." The state affiliate of the Southern Baptist Convention thanked him for "fighting to defend biblical marriage." 
Diehl also co-sponsored a bill in 2012 that would have banned gay-straight alliances in Missouri.