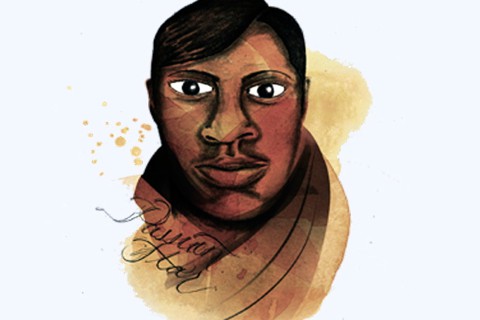 Back in March we told you how Texas prison officials had finally agreed to protect transgender inmate Passion Star (self-portrait above), after Lambda Legal filed a lawsuit alleging the Department of Criminal Justice had ignored her years of complaints about being raped and assaulted. 
The New York Times recently interviewed Star — and photographed the horrific scars she suffered in one attack — for an in-depth piece about the national epidemic of prison rape, which persists despite passage of a federal law to combat the problem in 2003. 
As of last year, only two states had certified compliance with the Prison Rape Elimination Act, while five have refused the standards outright, foregoing federal funds rather than striving to meet them.  
From The NYT: 
After decades of societal indifference to prison rape, Congress, in a rare show of support for inmates' rights, unanimously passed the Prison Rape Elimination Act in 2003, and [Rick] Perry's predecessor as governor, President George W. Bush, signed it into law.

"The emerging consensus was that 'Don't drop the soap' jokes were no longer funny, and that rape is not a penalty we assign in sentencing," said Jael Humphrey, a lawyer with Lambda Legal, a national group that represents Ms. Star (right) in a federal lawsuit alleging that Texas officials failed to protect her from sexual victimization despite her persistent, well-documented pleas for help.

But over 12 years, even as reported sexual victimization in prisons remained high, the urgency behind that consensus dissipated. It took almost a decade for the Justice Department to issue the final standards on how to prevent, detect and respond to sexual abuse in custody. And it took a couple of years more before governors were required to report to Washington, which revealed that only New Jersey and New Hampshire were ready to certify full compliance.
According to Just Detention International, which works to eliminate sexual abuse in detention facilities, LGBT inmates are 15 times more likely to be victims of prison rape than non-LGBT inmates. And Texas is home to five of the 10 facilities in the nation with the highest rates of sexual assault. 
Back in October, Lambda Legal 
filed a federal lawsuit
 on behalf of Star, accusing Texas prison officials of deliberate indifference to threats of sexual assault and violence against her in male facilities. The lawsuit alleges Star has lodged dozens of grievances, complaints and requests to be placed in safekeeping, but instead of taking measures to protect her, prison officials have told her to "suck dick," "fight" or to stop "acting gay" if she doesn't want to be assaulted. 
On one occasion, when Star appealed to officials to protect her from a gang member who said he owned her, they responded by moving her even closer to the inmate. The next morning, the gang member attacked Star, calling her a "snitching faggot," and slashed her face eight times with a razor, resulting in 36 stitches. Even after the attack, prison officials refused to move Star to protect her from violence in the general population.
Lambda Legal recently delivered a petition with more than 10,000 signatures to current Texas Gov. Greg Abbott urging him to adopt the federal prison rape standards. From the group's release: 
Following the delivery of the "Campaign to Stop Prison Rape in Texas" petitions today, Jael Humphrey, Lambda Legal Staff Attorney and Criminal Justice and Police Misconduct Strategist issued the following statement:

"We have brought the voice of the public directly to Governor Abbott's desk. Texas is among the states with the highest rates of rape and sexual assault in its prisons. This violence disproportionately affects lesbian, gay, bisexual and transgender (LGBT) people. LGBT people in Texas prisons, like Lambda Legal client Passion Star, live with the risk of sexual violence every day.

"Rape is not an inevitable part of incarceration, but leadership is key. PREA provides a framework to end sexual violence in Texas prisons and jails. Our petition represents the voice of a public eager to reform Texas's prisons. We are hopeful that Governor Abbott will do the right thing and take steps to implement PREA." … 

Asked what she would say to Governor Abbott ahead of the May 15th deadline, Passion said: "We need something like PREA to change the culture of prisons in the state of Texas. If Texas was doing everything they say that they're doing to stop [rape] from happening, then there's no point in turning down PREA. I don't want to have sex to be safe.  I shouldn't have to."