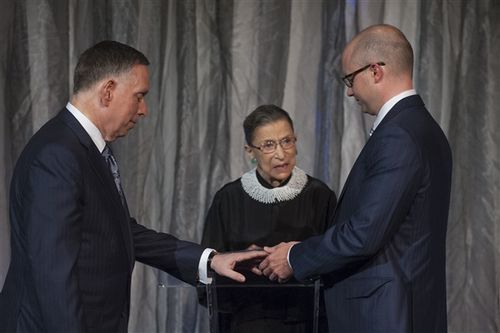 Notorious RBG proves once again she doesn't mind making NOM and the other anti-gay groups' blood boil, as the NYT explains:
Wearing her black robe with her signature white lace collar, Justice Ruth Bader Ginsburg presided over the marriage on Sunday afternoon of Michael Kahn, the longtime artistic director of the Shakespeare Theater Company in Washington, and Charles Mitchem, who works at an architecture firm in New York.
The gilded setting was elegant: Anderson House in the Embassy Row neighborhood, the headquarters in Washington of the Society of the Cincinnati, a club for the descendants of the French and American soldiers who fought in the Revolutionary War. During the ceremony, the couple slipped black and gold Harry Winston rings onto each other's fingers.
But the most glittering moment for the crowd came during the ceremony. With a sly look and special emphasis on the word "Constitution," Justice Ginsburg said that she was pronouncing the two men married by the powers vested in her by the Constitution of the United States.
This is Ginsburg's third time officiating a same-sex wedding. She has previously said America is ready for nationwide marriage equality. 
A ruling in the same-sex marriage case is expected late June.