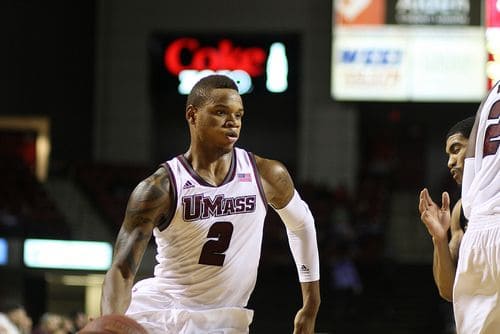 The first openly gay Division I men's basketball player in history is transferring to a school with an anti-LGBT reputation. 
Derrick Gordon, who came out last April while playing at UMass, announced Sunday he is transferring to Seton Hall University, a Roman Catholic school in New Jersey:
It's been a long recruiting process…But happy to say I will be going to Seton Hall University!!!…Can't wait to play for Coach Willard..

— Derrick Gordon (@flash2gordon) May 17, 2015 
Seton Hall is an interesting choice for Gordon given that, as we reported Sunday, the local archbishop just fired the school's campus priest Warren Hall (pictured below) for a pro-LGBT tweet. OutSports notes that Seton Hall has also faced lawsuits from a gay student who claimed discrimination and for refusing to allow an LGBT group. 
From The New York Daily News: 
Gordon, speaking on the school's radio station Sunday night, said he was aware of the firing, but felt comfortable on the South Orange campus.

"When I visited the campus today everybody made me feel comfortable," Gordon told WSOU. "I was there with my family. They made me feel comfortable to the point where it was a safe environment, even with the situation that happened with the priest two days ago. It felt like a family environment, and that was very big for me in my book. The visit went better than what I expected." … 

Gordon told USA Today on Sunday that he was not being recruited by some schools because of his sexuality, but that was not the case at Seton Hall.

"As long as I'm accepted, that's all that really matters to me," Gordon told the radio station. "We're all in a society now where there are people who accept it and people who don't accept it. Regardless of where I go, it's always going to be like that."
OutSports' Cyd Ziegler writes that Seton Hall's decision to pick up Gordon is a sign of progress:  
Ultimately, this had nothing to do with Gordon as a "gay athlete." The school chose to make a "basketball decision." Seton Hall could use the help. A strong program in the late Eighties and early Nineties, the men's basketball team has struggled in the Big East over the last decade. The team hasn't made it to the NCAA basketball tournament since 2006 and has won more than 20 games only once since 2004. The last time the Pirates were in the Sweet Sixteen, Gordon was in third grade. … 

It's another strong sign of a changing tide in sports. While Michael Sam is still not on an NFL team, he was picked up by the Dallas Cowboys after being released by the Rams last summer. Jason Collins was signed by the Brooklyn Nets after he came out publicly. Former professional rugby player Gareth Thomas was picked up by the Crusaders Rugby League in 2010 after he came out.

Yet the move by Seton Hall might be the most telling. Gordon is at the height of his basketball career, and the school needs him. Seton Hall is a Catholic school with an anti-LGBT history, and Gordon needs the school.
Watch a video in which Gordon talks about his coming out last year, AFTER THE JUMP …